Czech carmaker Skoda Auto is using two electric trucks to transport goods within its Mladá Boleslav assembly plant in the Czech Republic. The company said the use of the vehicles would save 60 tonnes of CO2 a year compared to diesel trucks and that more e-trucks were planned.
The trucks can travel 80km on a single charge and the batteries powering them take 4.5 hours to fully charge, according to the company. They use around 200 kWh of electricity per 100 km.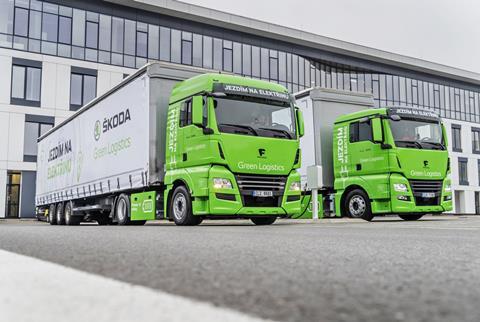 The use of the trucks is part of Skoda's corporate strategy to reduce its environmental impact by 2030, called Next Level. In terms of production and logistics the carmaker has already reduced emission by 25% by using factory vehicles that are powered by compressed natural gas (CNG).
"Following a successful pilot phase with the two all-electric trucks, we are rapidly replacing the internal transport fleet with battery-electric trucks," said Michael Oeljeklaus, Skoda's head of production and logistics. "In doing so, we also want to incentivise our local suppliers to do the same. In the medium term, we envisage all components being delivered by truck from the immediate vicinity of our plants to our production lines with zero local emissions."
According to the company, Skoda Auto Logistics has been testing the trucks since the beginning of October and by May next year they will fully replace the diesel-powered trucks being used on the routes.
The next step, according to the company, will involve transporting lithium batteries through the Mladá Boleslav plant on specially made, shortened semitrailers. Skoda said that would begin from June 2022 and the semitrailers will be equipped with conveyor technology for automatic pallet loading and unloading.
Other sustainability initiatives in logistics at Skoda include the use of solar panels on the rooves of parts trailers to charge the traction batteries of the trucks pulling them and the use of EffiShunter 50 locomotives to move finished vehicle trailers to move cars out of Mladá Boleslav.
Skoda Auto is also testing biodegradable film for the packaging of vehicle components shipped from Mladá Boleslav to its Indian plant in Pune.