Schaeffler's division in India has opened a parts consolidation and distribution centre (CDC) in Hosur, in the southern state of Tamil Nadu.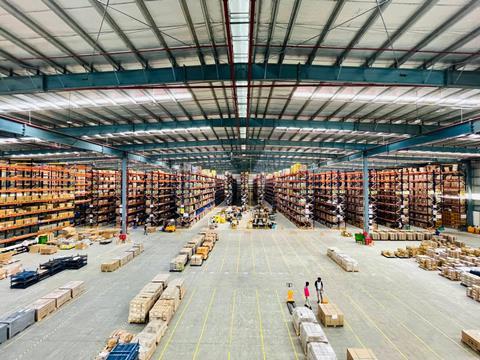 At 9,300 sq.m, the facility is the biggest warehouse the tier one automotive supplier operates in the Asia Pacific region, with capacity for 16,000 pallets. Schaeffler has contracted Allcargo Logistics to manage operations at the centre.
The Hosur CDC is the first of four such facilities that Schaeffler is opening in India.
Allcargo Logistics will consolidate Schaeffler's engine, transmission and chassis parts at the centre for onward distribution to OEM and aftersales customers in the southern region of India. Schaeffler has a clutch assembly facility in Hosur. It also makes bearings and precision parts at its plants in Pune and Vadodara.
Schaeffler said the new facility would speed up material handling and delivery. That process is supported by its investment in equipment, including reach trucks and forklifts, as well as high-rise pallet racking. The CDC is also fully Wi-Fi-enabled to support wireless handheld scanner use for picking and packing operations.
"The centre is capable of running automated and digitised operations and will help us to improve material handling and facilitate faster delivery, advancing our capabilities towards our customers, true to our claim and efforts of pioneering motion," said Harsha Kadam, managing director and CEO of Schaeffler India. "It will also improve sustainable practice in our plants by reduction in waste and material consumption through the utilisation of returnable packaging."
Allcargo Logistics said the Hosur warehouse was strategically positioned to meet the growing supply chain needs of automotive OEMs and the aftermarket.
"It will further strengthen our service delivery capability for the automotive OEM industry," said a spokeperson for the company. "Our focus is on offering customers enhanced delivery competencies throughout with end-to-end solutions."