Finished vehicle logistics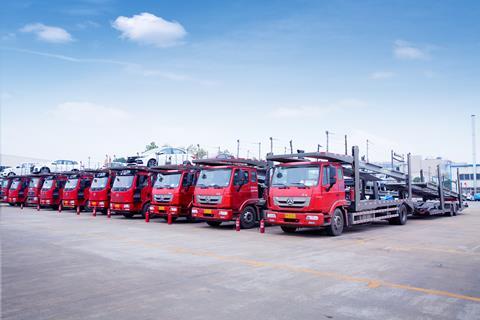 Road transportation
Focus on efficiency, cost and customer experiences for standard operations
Highway transportation of finished vehicle is one of the key business of Changjiu Logistics. Changjiu takes advantage of the main service spots across the country to cater to the needs of OEM plants and dealers. The company makes the best use of its elaborative business operation process and transportation security strength to provide professional, efficient, safe and well-conceived vehicle logistics solutions.
Service scope:
- B2B (OEM): Integrated vehicle logistics services (trunk line transportation, front-end and back-end distribution and urban distribution);
- B2B (dealer): High-end logistics services including testing cars, traveling and place-to-place transportation services for OEM plants, outlet-to-outlet transportation, and self-help delivery services for Dealerships;
- B2C: Integrated highroad transportation services for used car brokers, e-merchants, travelers and tourism companies.
Water transportation
A green, economical and smart service system
Changjiu Logistics has more than ten years of experience in commercial vehicle sea freight operations and management. Currently, the company has a fleet of offshore and inland river vessels capable of transporting millions of cars. The company has also established a nationwide sea freight service network and continuously enhanced its navigational capability through regular improvement in the port hub facilities.
Service scope:
- Coastal and riverside resource planning and operation services for vehicle transportation;
- Multimodal transportation of "sea freight via trunk lines + front warehousing + quick highway logistics distribution";
- Zigui trans-shipment system to shorten the duration of transportation over Yangtze River.
Railway transportation
Pioneer of automotive logistics along the "one Belt, one Road".
Expert in the international railway transportation of vehicles and parts.
Changjiu Logistics strives to make full use of the high-volume, long-distance, all-weather rail transportation, strengthen the cooperation between railway, highway, and sea freight, with the purpose to establish a "door-to-door" one-stop integrated transportation model and an efficient, collaborative full-process logistics service.
Service scope:
- Domestics railway transportation: Integrated full-process rail-waterway and rail-highway transport service solution;
- International railway transportation: With business expanding over China, Russia, Europe, Central Asia and Southeast Asia, Changjiu Logistics provides customers with professional and customized integrated international railway logistics solutions.