Recharge Industries has been confirmed as the successor to take over the UK-based lithium battery manufacturing business formerly owned by Britishvolt Group.
Britishvolt went into administration in January this year because of insufficient investment in its UK facilities, including the planned gigafactory at Blyth.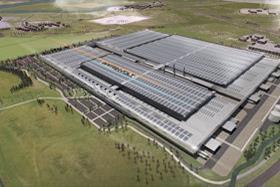 Britishvolt had secured £1.7 billion ($2 billion) early last year, from both private investors and government funding. However, there remained investment shortfalls in the development of its sites.
Recharge Industries, an Australian battery technology start-up, will retain the Britishvolt brand name and said it will make the UK's first gigafactory a reality. However, it is not planning the high-volume production of lithium batteries to support the growth in electric vehicle (EV) manufacturing in the UK. Instead, the company will first focus on stationary energy storage.
Recharge Industries specialises in both energy storage, using batteries to store solar and wind generated power for energy grids, and in batteries for EVs. Production of the battery storage units is planned to start in 2025 when the Blyth gigafactory, in the northeast of England, is complete.
After that, Recharge Industries aims to make batteries for high-performance sports cars, though the company has not confirmed whether that includes for Aston Martin and Lotus, both of which Britishvolt had signed MoUs with prior to its collapse.
Mike Hawes, chief executive of the Society of Motor Manufacturers and Traders (SMMT), said: "This news shows that the UK's promise as a battery production location remains undimmed. We must ensure, however, that Britain attracts more capacity and capability for its automotive sector, as the industry has the potential to be a crucial driver in the UK's transition to a zero emission, growth economy."
Recharge Industries has not confirmed whether it will be investing in the Britishvolt battery scale-up facilities in Hams Hall in the UK Midlands. Before its collapse, Britishvolt had committed to invest £200m ($247m) in those facilities.
Backed by US investment firm Scale Facilitation, Recharge Industries is currently building a similar facility in Geelong, Australia
"Backed by our global supply chain, strategic delivery partners and a number of significant customer agreements in place, we're confident of making the Cambois [Blyth] gigafactory a success and growing it into an advanced green energy project. We can't wait to get started and want to start as soon as possible," said David Collard, founder and CEO of Scale Facilitation.
The UK government had offered Britishvolt £100m to hit development milestones through its Automotive Transformation Fund (ATF). Last October the battery maker requested £30m of the overall £100m committed through the government's ATF but the request for the advance was rejected.
Unlike Britishvolt, Recharge Industries is not solely dependent on investment from UK private and public funding.