Volvo Cars and EV battery manufacturer Northvolt have announced a new joint battery manufacturing plant will be built in Gothenburg, western Sweden.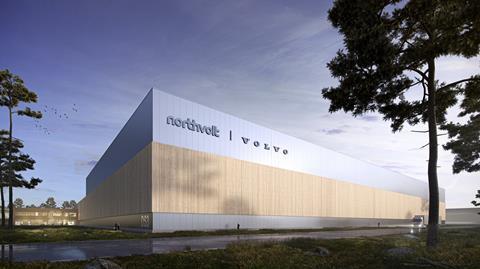 The new 50-gigawatt-hour (GWh) plant will create up to 3,000 jobs and make battery cells specifically developed to be used in next-generation pure electric Volvo and Polestar cars.
"Establishing this gigafactory in Gothenburg is a decisive move - both to continue to transform one of the most dynamic automotive regions in the world, and to become the leading global supplier of sustainable batteries," Northvolt chief executive officer Peter Carlsson said.
Last year, both Swedish-based firms said they would establish a joint venture to develop batteries for electric cars, including setting up a gigafactory for production and an R&D centre, with a total investment of about 30 billion Swedish crowns ($3.3 billion).
The first move for the new jointly owned company will be a battery research and development centre, also in Gothenburg, which will open in 2023.
Volvo Cars and Northvolt, whose biggest shareholder is Volkswagen, said they expect operations in the new plant to begin in 2025.
Now majority-owned by Chinese-owned Geely Holding, Volvo hopes to sell 50% pure electric cars by the middle of this decade and fully electric vehicles only by 2030.
The battery factory will be constructed in two stages. Detail planning is currently underway for phase one, which entails 55 hectares. The location is already a national priority for industrial production and has existing infrastructure, simplifying planning.
At the end of December, Northvolt's gigafactory in the Swedish town of Skelleftea assembled its first battery cell, making it the first European company to design and manufacture a battery entirely in Europe.
Northvolt has so far acquired over $30 billion worth of contracts from customers such as BMW, Fluence, Scania, Volkswagen, Volvo Cars and Polestar.
The Gothenburg location offers benefits in terms of a direct route into Volvo Cars' largest car plant, access to infrastructure, a strong pipeline of renewable energy supply and relevant expertise, as well as its proximity to both Volvo Cars' and Northvolt's R&D units.
Volvo Cars and Northvolt have both lauded both companies' dedication to sustainability. In keeping with that sentiment, the new factory will be powered by fossil-free energy, focusing on driving renewable energy capacity in the region and integrating engineering solutions that prioritise circularity and resource efficiency.
Battery production for Volvo Cars' and Polestar's fully electric models account for a significant part of each car's total life cycle carbon emissions. By working with Northvolt, Volvo Cars and Polestar can aim to reduce the environmental footprint attributable to battery sourcing and production for future cars.
"Northvolt and Volvo's latest gigafactory investment reflects the current industry trend towards JVs within the EV battery supply chain," said Daniel Harrison, automotive analyst at Ultima Media.
"It reduces investment risk and both parties symbiotically gain from the technology / knowledge transfer. Other examples include ACC (Stellantis, Mercedes, SAFT/ Total). Renault & Envision AESC, Verkor & Renault."
Larger OEMs such as VW and Tesla have stated that their ultimate aim is to produce cells in-house. To this end, VW recently bought out Northvolt's 50% share in their original JV called Northvolt Zwei in Germany.
Harrison added that this announcement not only illustrates the increasing regionalisation of the battery supply chain to Europe, but the localisation and even hyper localisation of cell production to OEM vehicle assembly.
"This announcement not only illustrates the increasing regionalisation of the battery supply chain to Europe, but the localisation and even hyper localisation of cell production to OEM vehicle assembly," he explained.
The importance of access to port and railway, alongside the sustainability benefits, echoes similar noises coming from Italvolt and its British offshoot, Britishvolt.
Last year, Italvolt announced its intention to build southern Europe's gigafactory in Scarmongo, Italy.
The Scarmagno already contains existing infrastructure and strategic geographical location for road and rail connections.
The Blyth port location of Britishvolt's planned manufacturing plant, which has recently received government backing, allows ocean freight to come straight to the facility and remove long-range truck haulage for inbound materials. At the same time, the finished batteries can easily be shipped, distributed to UK car plants or exported to mainland Europe.
Localisation of the battery supply chains also serves to reduce logistics costs, to help ensure the security of supply in times of disruption, to capture the lucrative battery value chain for Europe, but primarily to lower the costs for battery production and ultimately to lower the cost of EVs.