Swiss car hauler Cotra Autotransport is adopting logistics and yard management technology provided by software specialist Inform at its vehicle logistics centre in Studen, Switzerland. The take-up follows a pilot project that the two companies recently completed.
Cotra said the choice of Inform's SyncroTess suite of tools was part of a digitalisation and optimisation project the company has launched to gain greater transparency of all vehicle logistics processes.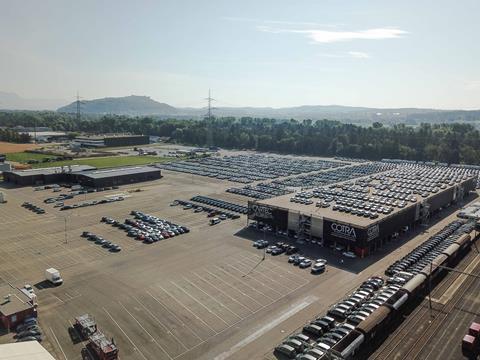 "Changing customer requirements motivated us to rethink our processes and systems, and to consistently drive digitalisation forward," said Remo Sollbeger, operations manager at the Stunden vehicle logistics centre. "This is how we came into contact with Inform and, after a pilot project, we were satisfied that their Syncrotess solution was the one for us."
Cotra annually processes 50,000 new and used vehicles across eight sites. Its customers include carmakers, new and used car dealerships, and vehicle hire companies, among others. As well as transporting vehicles, Cotra provides pre-delivery inspection, preparation, and technical and maintenance services. It also provides support for customs clearance, cleaning and storage, all of which will be supported by the Inform software.
Inform said its SyncroTess system will improve the efficiency of employee vehicle allocation, selection of parking spaces and the sequencing of workshop services. The technology will help plan vehicle movements and rail unloading at the Stunden facility according to priority, availability of required resources and the impact on adjacent processes.
"Once [SyncroTess] is implemented, we'll be in a position make our processes even more customised, dynamic and transparent to plan, control and analyse," said Sollberger. "This allows us to create even more significant added value for our customers and supports our forward strategy in vehicle logistics."
Each task an employee carries out is documented using a mobile application, which ensures that transparent data is available for subsequent planning, as well as controlling, billing, and communication with customers.
"Vehicle logistics in general and the high-growth used car market in particular are known for having to meet customer requirements that often change at very short notice," said Harmut Haubrich, vehicle logistics director at Inform. "In many cases, our customers need to be able to map new process steps for all vehicles of a particular manufacturer or for specific models within just a matter of days. Our algorithms are designed for dynamic process planning and optimisation in real time."
The deal with Cotra Autotransport follows closely on a similar agreement Inform signed with Hödlmayr International in July this year.