Mercedes-Benz Trucks has delivered the first of six eActros 300 semitrailer tractors to Logistik Schmitt. The German transport company will be using the electric truck to deliver engines to the Mercedes-Benz Trucks Wörth plant from its logistics centre in Gemersheim 25km away. The truckmaker said that its Mannheim engine plant will be brought into the route in due course.
"Logistik Schmitt has been an important partner for testing the eActros since 2019," said Ronald Ott, head of sales trucks for Mercedes-Benz and Fuso in Germany. "From the first prototype to the electric articulated truck – Logistik Schmitt has supported the development steps of the e-truck with intensive tests. We are all the more pleased that the company is now including the eActros permanently into its fleet."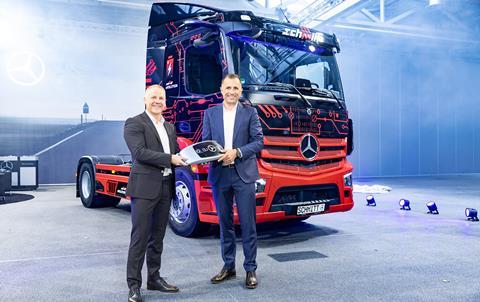 In November last year Mercedes-Benz Trucks said it was aiming to electrify the fleet of trucks it uses to bring inbound material to its Wörth plant in Germany by the end of 2026. That began with a pilot phase using electric-powered Mercedes-Benz eActros tractors. Series production of the Actros 300 will begin at the Wörth plant by the end of this year. Later it intends to add the eActros 600 (formerly known as the LongHaul) and other models.
"The eActros 600 will be in series production from end of 2024 onward," said a spokesperson for parent company Daimler Truck. "Before that, there will be a customer test fleet."
The eActros 600, which has a payload of around 22 tons, will have a range of 500km without intermediate charging and the potential for 1,000km a day with intermediate charging during legally prescribed driver breaks.
The eActros 300 tractors are each equipped with three battery packs with 112 kWh installed battery capacity enabling a range of up to 220km with a single battery charge. Logistik Schmitt has installed battery charging at its facilities and the trucks can also be charged at the Wörth plant. The eActros 300 can be charged with up to 160 kWh.
Mercedes-Benz Trucks is installing 50 separate charging points, including megawatt charging stations for high-performance battery charging. The charging columns will be located at key points for delivery traffic in the immediate vicinity of production at the Wörth plant. It said the time during which the incoming parts are unloaded will be used to recharge the delivering truck's battery.