Nio has announced record deliveries in the first quarter of this year and the production of its 100,000th vehicle.
The company has been making EVs at the JAC-Nio Hefei Advanced Manufacturing Centre in Anhui province since May 2018. It started with production of the ES8, now one of three models the company is making in China, alongside the ES6 SUV and EC6 SUV coupe. Next year it will start delivering the ET7 luxury sedan.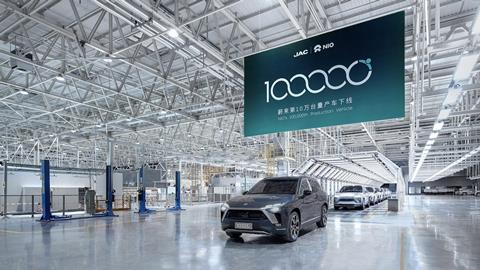 Nio delivered 20,060 new vehicles in the first three months of this year, which was an increase of 423% year-on-year. Last year the carmaker delivered a total of 43,728 vehicles, more than double what they were in 2019, bringing cumulative deliveries up to more than 75,600. Nio expects to deliver more in 2021 based on a better sales environment without coronavirus restrictions and strong start in the first quarter.
However, assembly at Hefei was temporarily halted for five days at the beginning of April because of the shortage in the supply of semiconductors, which is affecting vehicle production globally.
As well as vehicle production in partnership with JAC in Hefei, Nio makes batteries in Changshu, e-powertrains in Nanjing and inverters in Kunshan.
Like other EV makers, Nio's sales model does not follow the automotive industry's traditional push model of production and is instead operating on a build-to-order model, which has implications for logistics with lower inventory levels and less risk. However, Nio has to ensure a level of safety inventory to cope with a more volatile pattern of orders.
On the outbound side Nio continues to use trucks conforming to the latest regulation on size and quality, known as GB1589 (2016). However, as part of its 'user thinking' approach, the company is also offering a premium service where individual cars can be expedited individually.
Nio model deliveries for March 2021

ES6 SUV

3,152

EC6 coupe SUV

2,576

ES8

1,529