The UK's automotive sector has a battle on three fronts at the moment: dealing with the continued disruptive impact of Covid, finding a way through trade post-Brexit and the transition it must make to net zero carbon sector by 2030.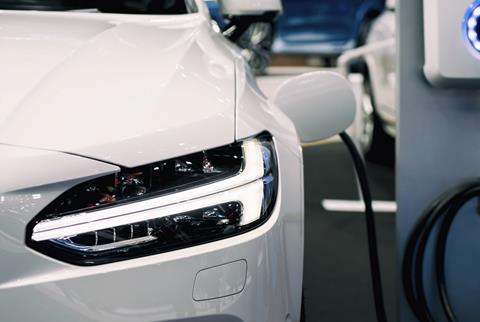 While carmakers and their suppliers continue to navigate the first two, succeeding in that last one is key to their long-term survival. At this week's International Automotive Summit held by the UK's Society of Motor Manufacturers and Traders (SMMT), its chief executive, Mike Hawes, explained what was needed for the future competitiveness of the UK car industry.
According to SMMT figures, the UK automotive industry accounts for £78.9 billion turnover, contributes £15 billion in added gross value (GVA) to manufacturing, directly employs more than 180,000 people (and another 680,000 jobs in the wider supply chain), and provides wages 20% higher than the UK average. It is also the largest exporter of UK goods, with 80% of cars and 60% of commercial vehicles exported to around a 150 markets worldwide.
"Despite that we are still falling behind the competition," said Hawes in his opening address. "So we must build back better than our competitors, match the words with deeds."
The SMMT used this week's event to launch a policy proposal aimed at securing the competitiveness of automotive manufacturing in the UK over the next decade. The paper, called 'Full Throttle: Driving UK Automotive Competitiveness' and commissioned by the SMMT from policy and research specialists Public First, sets out 12 points that are needed to ensure the automotive sector can compete internationally as it changes to a net-zero carbon industry (see box below).
Battery expansion or bust
According to the SMMT, the shift to electrified vehicles is the biggest challenge facing the car sector in the UK. There needs to be a big expansion in UK lithium battery manufacturing for one thing. Carmakers need lithium battery production to be as close to their assembly plants as possible because of the cost and safety issues related to shipping a heavy and dangerous good. Without localised supply, OEMs could relocate.
"By 2025 the UK will have about 12 GWh of lithium-ion battery capacity," said Hawes. "The US will have 91 GWh and Germany 164 GWh."
Carmakers are already working with government to attract additional battery manufacturing to the UK (Nissan is expected make an announcement later this week). The SMMT report puts some exact figures on it, however, and calls for a binding target of 60 GWh of supply by the end of this decade and more generous incentives for investment in battery capacity if the vehicle sector is to achieve a steady upward trajectory.
"We are calling for an explicit target of 60 GWh of UK battery production by 2030 and capacity to produce 1m electric vehicles, and avoid restrictive export controls with Europe," said Hawes.
The SMMT's strategy calls for a 'Build Back Better Fund' to support the transformation to an electric future. It also highlights areas in which manufacturing lags compared to other countries, including Germany and the US, notably in energy costs, which are among the highest in Europe in the UK.
The UK needs help with the UK emissions trading scheme, which has seen costs rise dramatically compared to the EU version it replaced. In addition, the SMMT calls for gigafactories to be exempt from the Climate Change Levy, the tax on energy delivered to non-domestic users in the UK. It said the UK also needs a massive investment in charging infrastructure to bring the current estimated 35,000 charging points in the UK to the 2.3m required by the end of the decade.
"Achieving net zero is key to this industry," said Hawes. "We are making good progress, the result of corporate decisions made many years ago and well ahead of our politicians…[but], if we build EVs, the government needs to help build the infrastructure."
From a customer point of view, it is also important to make the more costly EVs affordable across the consumer base by providing more competitive purchasing incentives. Currently, the UK grant system offers a £2,500 incentive to buy electric, compared to the €9,000 offered in Germany or the $7,000 offered in the US.
"This is not a wish list or cap-in-hand plea to government. It is a concrete plan for investment and growth," said Hawes, adding that its message to government was from an older source: give us the tools and we will finish the job.
Stay posted for more coverage from this week's SMMT International Automotive Summit
The 12 policy proposals
Technology & Innovation
Commit to creating 60 GWh of battery production within the UK via gigafactories by 2030.
Support development of a fuel cell gigafactory with 2GWh capacity to support cars, heavier vehicles and rail units by 2030.
Roll out a comprehensive and long-term skills strategy that supports auto needs combined with piloting greater flexibility in the Apprenticeship Levy to support retraining.
Commit to the UK becoming a global leader in developing, testing, trialling and deploying Connected and Automated Vehicle (CAV) technology.
Manufacturing Competitiveness
Introduce a new 'Build Back Better Fund' to support good manufacturing jobs for the future and help lower manufacturing costs such as energy.
Allow net zero critical industries, such as manufacturers of low carbon, hydrogen and battery vehicles, to access the same benefits and compensation schemes as energy intensive industries and get more support within the UK Emission Trading Scheme (ETS).
Fund trial and demonstration projects to explore the use of hydrogen during manufacturing.
Ensure the UK tax system helps position Britain as an attractive destination for global investment.
Consumer, Market & Trade
Develop a holistic infrastructure strategy to ensure that at least 2.3 million public charging points are in place by 2030.
Commission an independent review to holistically consider the long-term future of fuel duty and CO2 based taxes like vehicle excise duty in a decarbonised sector.
Continue Plug-in Vehicle Incentives beyond their current term and exempt Ultra Low Emission Vehicles from taxation for the next five years
Work with the industry to develop an ambitious, forward looking trade strategy, which targets the sector's most important markets.