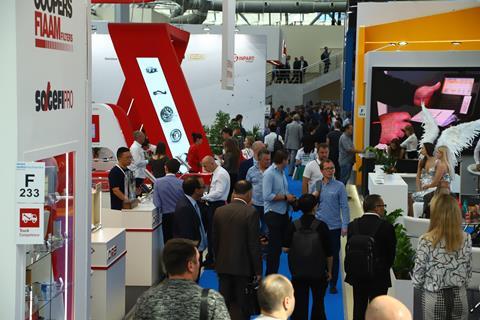 Turkey is set to increase automotive exports to Russia over the next several years under the upcoming trade liberalisation arrangement between the two countries.
Speaking during the recent MIMS Automechanika Moscow Fair, Orhan Sabuncu, vice-chairman of the Uludağ Automotive Industry Exporters Association (OİB), said Turkey and Russia were poised to boost the trade turnover from $25.7 billion in 2018 to $100 billion during the coming years.
The goal was set by Turkey's president Recep Tayyip Erdogan and Russian president Vladimir Putin earlier this year and each country's government is supporting the expansion of bilateral trade between two countries. That includes the potential lowering of tariffs on certain categories of goods, although there are no details so far on when exactly this might happen.
In 2019, Turkey is forecast to export automotive products worth $500m to Russia – one the highest figures since pre-crisis 2013, when the overall value of imports almost reached $1.2 billion, Sabuncu said. Turkish automotive exports to Russia had grown steadily in the years prior to the economic crisis in Russia, according to figures from the Russian Federal Customs Service (see table), and Russia became the fifth biggest sales market for Turkish automotive components.
Turkish automotive exports to Russia
Year Value
2011 $927m
2012 $940m
2013 $1.16 billion
2014 $805 million
2015 $338 million
2016 $237m
2017 $328m
2018 $454m
2019 $500m
Figures from Russian Federal Customs Service
Imports were disrupted after the Turkish army downed the Russian bomber aircraft SU-24M in October 2015. Following this incident the Russian government introduced an enhanced monitoring of all automotive products of the Turkish origin, effectively freezing all import supplies.
At that time, several automotive plants in Russia, including the Toyota plant in St Petersburg, were on the edge of halting production altogether. Some plants were forced to to look for alternative suppliers. According to Gefco, in some cases logistics providers were prompted to redirect transport flows and import automotive components from Turkey to Russia through the territory of Belarus.
Speaking earlier this year in Yekaterinburg, Russia, Mustafa Varank, Turkey's minister for technology and industry, admitted that the incident with the Russian bomber caused a long-term impact on the bilateral trade "with many Turkish companies forced to leave the Russian market". Varank said that during the recent few years that trade has been seen recovering, but at a moderate pace.
According to Sabuncu, a delegation of 52 Turkish companies participated in this year's MIMS Automechanika Moscow Fair and introduced their products and services, including automotive sub-industry (below the tier 2 level) products, commercial vehicles, interior design, security equipment, engine parts, sound systems and telecommunications. Sabuncu also added that next year the Turkish delegation at the fair is going to be the biggest ever.