Cazoo has announced the delivery of its 25,000 car since starting business in December 2019. The online used car retailer now has 180 enclosed delivery trucks and 17 collection centres across the UK supporting its business, and is the biggest such retailer in the country.
Before the end of this year Cazoo plans to launch its business in France and Germany, where it already has subscribers. It said that the European used car market represented a $700 billion opportunity.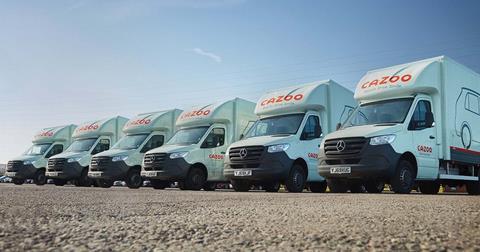 Cazoo buys and reconditions second-hand cars, and then posts them on its website for sale. Once a sale is confirmed the company can deliver the vehicle directly to the customer or to one of its collection centres where the customer can pick it up.
The impact of social distancing measures caused by Covid-19 affected physical auctions of used cars and boosted online models of purchasing and delivery, something that has benefited Cazoo's business.
"This is a great milestone to hit inside our first 18 months and we're delighted that customers have responded so positively to the Cazoo proposition," said Alex Chesterton, founder and CEO of Cazoo. "We look forward to continuing our mission of delivering the best car buying experience for consumers by providing better selection, quality, transparency, convenience and peace of mind."
Cazoo said it expected to achieve revenues approaching $1 billion in 2021, a growth rate of more than 300% in its second full year of operations. It is now supported by a team of around 1,800 across the UK, Germany, France and Portugal.
In March Cazoo announced it would list on the NYSE later this year through a $7 billion business combination with Ajax I, a publicly traded special purpose acquisition company.
Read more about the switch to online sales models in the used car sector