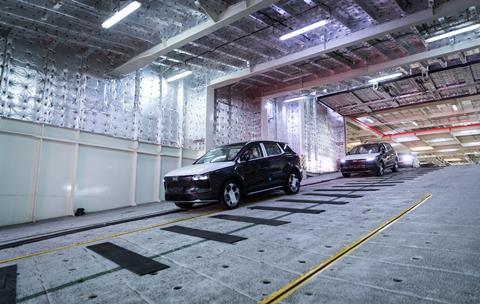 BLG Logistics has taken its first shipment of electric vehicles imported to Europe by the Chinese start-up carmaker Aiways. A small volume of 53 battery electric SUVs – the Aiway U5 model – were unloaded at AutoTerminal Bremerhaven in Germany on July 24, delivered by maritime finished vehicle services provider Wallenius Wilhelmsen Ocean (WW Ocean).
The vehicles, which are made at Aiways assembly plant in Shangrao, China, are destined for sale in France but are currently being stored at BLG's terminal while the company handles quality control and customs clearance for Aiways.
BLG is also handling the road transport of the vehicles to Marseille.
According to a spokesperson for BLG this first volume kicks off Aiways sales in Europe and the logistics provider is currently in discussions with the carmaker on the volume of future deliveries.
BLG Logistics said that the share of electric vehicles has increased in recent years and as volumes grow there are new demands on port infrastructure.
"In port cargo handling and transport, vehicle weight is a key aspect," said the company in a statement. "The higher weight due to the batteries increasingly affects both load volumes and loading of the transport trucks and rail cars."
However, at this stage electric vehicles are still relatively small in number and BLG said it is managing the growth in number with its customers.
Outbound supply chains have been honed to efficiency for the handling of conventional internal combustion engine (ICE) vehicles but logistics providers are now having to adjust to vehicles with very different characteristics, which is making their movement more complicated.
Sales of Aiway U5s will begin in Germany this summer, followed by sales in France, Norway, Switzerland and the Netherlands.
AutoTerminal Bremerhaven handles 2.1m vehicles per year and can accommodate up to 95,000 vehicles. Between 6-7% of that number was made up of electric vehicles last year.