The latest quarterly survey questions into developments affecting the finished vehicle logistics sector have now been made live by Automotive Logistics, in collaboration with logistics provider, RPM.
The survey builds on three previous quarterly surveys of companies based across Asia, Europe and North America. It is designed to gauge industry responses to the latest challenges affecting the sector, including regulation, capacity constraints, labour issues, rising freight rates, equipment costs and fuel prices, as well as sustainability targets, among others.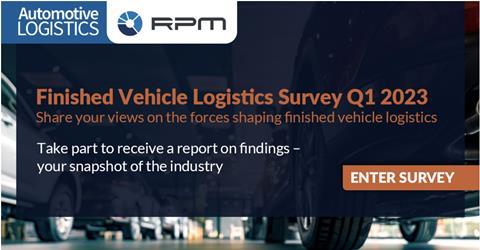 Results from the most recently completed survey pointed to a widening range of challenges for FVL providers. They include labour and capacity constraints. Market uncertainty continues to grow, as does concern for fuel costs, volume volatility, unpredictable lead times, and production disruption. In terms of capacity constraints across the globe, the most severe impacts were registered in road transport, followed by ocean transport, rail and port terminals.
Survey results are sent to all participants as part of a finished report as soon as the survey is complete. The current survey will close on February 2.
On the major issue of rising costs, the dominant challenge was fuel, followed by labour costs, expenditure on equipment and fleet, and energy pricing.
Furthermore, there are macroeconomic headwinds and uncertainties created by the ongoing war in Ukraine, and the impact of severe inflationary effects on businesses and consumers. That is now likely to be compounded by a period of recession across most advanced economies. That business climate makes it especially challenging for FVL providers to survive, thrive and invest in the future.
Both the automotive and logistics industries continue to struggle with staffing levels and recruitment. This continues to have a major impact on the production and transit of goods, not least in the transport of finished vehicles by road and rail.
As with the previous quarterly surveys, this fourth one aims to provide an overview of the key trends affecting the sector and how they may have shifted over the quarter as new developments have come to light. You can take part in the survey here and help measure the sentiment of the sector and what are perceived to be the biggest challenges and opportunities out there at the moment.