In the face of disruption and a drop in vehicle volumes caused by Covid-19, NYK is looking into the use of automation to reduce contact in storage yards, and remote management of cargo-handling and pre-delivery inspection (PDI) operations. At the same time it is continuing to expand its automotive-dedicated terminals globally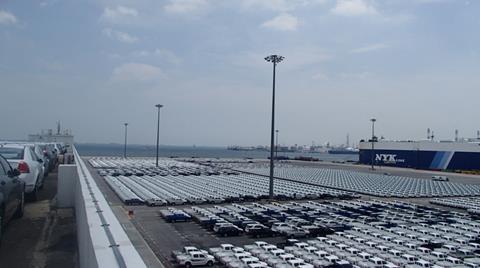 In Belgium, NYK's car terminal subsidiary, International Car Operators (ICO), is trialling the use of AGVs to move vehicles around the cargo-handling yard with plans for roll out in Singapore and Thailand, among other countries. The vehicles are mounted on pallets and then moved, which reduces the amount of staff needed from six to one, according to the company.
Along with that, parent company NYK Line is looking at using cameras to enable remote management of cargo-handling and PDI operations.
In its annual report for 2020, NYK said that it was examining strategies for reducing the number of employees involved in cargo-handling and pre-delivery inspection operations and make them 'non-contact' business processes as a response to Covid-19.
Earlier this year the company also trialled remote navigation of a tugboat. The boat was manoeuvered around an area of approximately 12km in Tokyo Bay from an operation centre 400km away in the city of Nishinomiya.
"In the future, NYK and its group companies will work to overcome ship-to-shore communication issues that were revealed during this experiment, further improve the system, and aim to start remote navigation tests using domestic coastal ships within this year," said NYK. "We will continue to work with our partners to develop technology for large vessels in the future."
At the same time NYK is looking to improve profitability. In April and May the company saw a significant drop in the number of finished vehicles it transported, both on the ocean and inland. The impact has brought its volume forecast for the year down to around 1.08m units and the company expects a drop in the number of vehicles shipped of between 70-80% on the previous year's level, with associated profit declines in the Car Transportation division.
"In an era of dramatic transformation in the automotive industry, we will continue to work on improving profitability and efficiency by making use of the next-generation technology to push through with sustainable growth and business development," said Takaya Soga, managing executive officer and chief executive of Automotive Transportation Headquarters at NYK Line.
The company said that cargo volumes began to recover in July but the speed of recovery differed by region and was slower in Europe, Latin America, the Middle and Near East compared to other regions, such as North America and Australia.
Dedicated terminals worldwide
NYK Line is, however, continuing to open finished vehicle terminals globally. The company began operations at its terminal in the Japanese port of Yokohama in August this year. The Yokohama Daikoku C-3 Terminal is NYK's first in Japan and has one of the highest handling volumes of finished vehicles in Japan.
In addition, NYK will begin work on its first automotive terminal in Egypt in 2021. At the beginning of this year NYK, along with consortium partners Bolloré Africa Logistics and Toyota Tshusho, signed an agreement with the General Authority for the Suez Canal Economic Zone to operate a terminal in the East Port Said. It will be the first dedicated automotive terminal in Egypt. Currently the majority of finished vehicle traffic goes through Alexandria port, which is multipurpose and lacks storage space for vehicle volumes. The terminal will be able to accommodate two large pure car and truck carriers (PCTCs).
NYK said it would include environmental, social and governance considerations in running the terminal. It has also been promoting the use of wind-power generation at the ICO terminals in Belgium and will soon be starting operations using that power.
In the 2020 report NYK said it is also embracing digitalisation of vehicle processes and has been analysing big data collected from its its vessel information management systems. The company said it was using this information to prevent accidents involving PCTCs.
Russian focus
In other news, NYK Line is expanding its finished vehicle business in Russia and has renamed its Rolf Logistic subsidiary, which provides inland finished vehicle transport, port terminal operations and storage in the region. Now called NYK Auto Logistics (Rus), the subsidiary is responding to strong demand for both finished vehicle and automotive parts movements in Russia, according to NYK.
NYK bought a controlling 51% stake in what was then Rolf SCS back in 2012 but it was not until July this year that it made the company a wholly owned subsidiary.
Going forward NYK Auto Logistics (Rus) will provide inland transport of finished vehicles and manage inland storage and pre-delivery inspection terminals in Russia. It will also provides port terminal services, including storage, cargo handling, shipping agency services and customs clearance.