At next May's Finished Vehicle Logistics North America conference in California, experts from across the sector will get together to tackle the main issues they are facing post-Covid, not least the problem of adequate transport and storage capacity
This month the US rail freight sector was once again facing the threat of strike action by union members over pay and conditions. Thanks to legislation passed by the US Senate at the end of last week, the strike has been averted, securing the shipment of a wide variety of goods across the wider North American region, including automotive.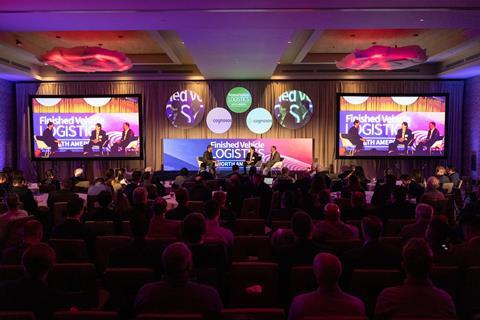 The Class 1 railroads in the US carry around three quarters of US finished vehicles on the main part of their journey from plant to dealership. With the road transport of finished vehicles compromised by a severe shortage of drivers and equipment, rail remains crucial for vehicle shipments, even if performance has been below par in recent times.
The threat of strike action for the second time this year once again raises the important issue of transport capacity and the availability of talent supporting outbound automotive logistics in North America. Those topics will be central to next year's Finished Vehicle Logistics North America conference, which takes place between May 9-11 in Hungtington Beach, California, and which already has confirmed attendance from carmakers, including Ford, Mercedes-Benz, Nissan and Volkswagen.
Post-Covid contingencies
It is not just the threat of strike action on the rail network that is making the North American vehicle logistics market so volatile. Following a Covid pandemic that disrupted international vehicle flows and which led to consequent production shutdowns because of parts shortages, the automotive sector also suffered a great resignation in talent that has yet to be replaced.
As a result, the North American vehicle logistics market has never been in such need of collaboration to address chronic inventory and capacity shortages, poor visibility and high costs.
Logistics providers and their customers are looking for contingency strategies to deal with volatile volumes that include faster and flexible movement, storage and final delivery to the customer.
That is why the FVL North America 2023 is focused on driving collaboration across the sector. It will cover the most important issues for vehicle logistics through a programme of problem-solving panels and sessions, interactive workshops and innovator showcases.
LEARN MORE ABOUT THE SPEAKERS AND AGENDA FOR FINISHED VEHICLE LOGISTICS NORTH AMERICA 2023
Plugged-in and productive
The latest technology also has its part to play in providing greater visibility of vehicle location at every step in the delivery process and faster problem when something goes wrong in that process. Digital tools are also playing a greater part helping to attract, recruit and retain talent in the finished vehicle sector. FVL NA 2023 will be looking at the latest digital tools being used to improve the delivery of vehicles between plant and the end customer.
All of this comes at a time when vehicle production and logistics in North America is undergoing the historic transition to electrification, supported by government incentives. The rise in the number of pure battery electric vehicles (EVs) being moved by ocean, rail and road brings with it a multitude of new demands on the providers of finished vehicle logistics sector. Battery EVs are heavier, require charging and need more stringent safety measures in their movement, given the lithium-ion batteries powering them, all of which will be under discussion.
Sustainability is not just about the EV being moved but the way in which it is moved, as OEMs look to take emissions out of the entire vehicle lifecycle, from sourcing and production, to delivery and use, and finally to recycling. Whether it be the use of alternative fuels for ocean vessels, the adoption of hydrogen or battery electric powertrains in trucks, or the use of cleaner fuels for rail traction, greater sustainability in the delivery of cleaner vehicles is a central concern for a cleaner automotive sector in North America and one that will be central to discussions at FVL North America 2023.
The event will bring together more than 350 experts from OEMs, carriers, logistics service providers, railways, shipping and port providers, policymakers, equipment, IT, repair and insurance specialist and other stakeholders to work together on the issues that matter most to North America's vehicle logistics.

Automotive Logistics magazine returns in print form in 2023 and the first edition will be distributed at FVL North America, with its main focus on the finished vehicle logistics sector