Geodis was in talks with a number of carmakers and tier one providers following the launch of a new expedited air service between Hong Kong and China that will support emergency parts shipments, including for batteries
Logistics provider Geodis has launched a weekly air cargo service from Hong Kong to Guadalajara, Mexico that is expected to support expedited shipments of automotive parts from Asia, including for lithium-ion batteries.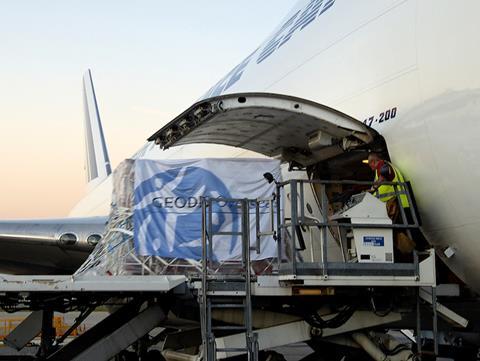 The company's executive vice-president for freight forwarding, Eric Martin-Neuville, said that while volumes of automotive parts on the flights so far were not significant, Geodis was in talks with a number of carmakers and tier one providers. The logistics provider is looking to increase flights to three times a week as demand increases.
"Most of our current payloads consist of parts delivered to manufacturing lines as traditional US and European sourcing regions are being replaced by Asian products," said Martin-Neuville. "There are also opportunities to move automotive lithium batteries, but these are more limited due to very strict restrictions by the Hong Kong authorities governing the movement by air of heavy-duty batteries."
Nevertheless, according to Martin-Neuville, a rise in demand for plug-in vehicles, the increase in automation, and battery-operated material-handling equipment in the automotive industry were all key drivers for the growth in demand for the rapid movement of lithium batteries. While sea transport still carries most of these, the overall rise in demand, combined with the threat of production delays and quality issues, have all resulted in Geodis experiencing an upsurge in demand for airfreight in the last few months from the automotive sector he said.
The transport of lithium batteries by air is strictly regulated by the two main aviation authorities: the International Civil Aviation Organization (Icao) and the International Air Transport Association (Iata). At the same time each airline has its own rules and regulations on the transport of lithium-ion batteries.
The service has a transit time of 22 hours, though time and distance are not factors in the movement of batteries, it is more a question of packaging.
"The risks with lithium battery transport are not related to distance," said Martin-Neuville. "One of the major risks is a short-circuit in a battery as a result of the terminals coming into contact with another battery, a metal object or conductive surfaces. To avoid this the packaging must consist of strong, rigid outer packaging, unless the batteries are in specialised equipment, affording the battery equivalent protection."