In one year of handling finished vehicles on behalf of GM, the Brazilian port of Itajaí reported throughput of almost 25,800 units by June 8, 2019. By the end of June, that figure had risen to more than 27,000 units.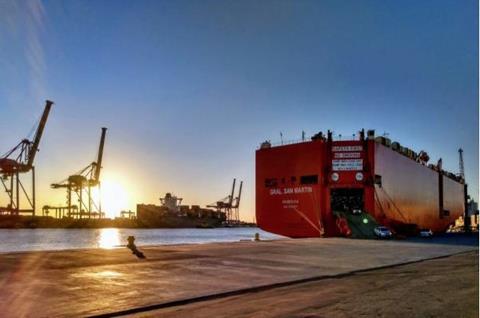 Trials began on 9 June 2018, involving the import of 500 Chevrolet Cruze models. Since then consignments have grown in size, with 21 ro-ro vessel calls taking place during the course of the year.
The two calls that ended the 12-month period brought a combined 1,242 units to the port. The first was K-Line's General San Martin, which had a consignment of 800 Cruze models. The ship arrived from the Argentine port of Zárate and continued onto Rio de Janeiro.
This was followed by the Panamanian-flagged California Highway, which had a mixed consignment of 442 Tracker and Equinox vehicles. The ship was inbound from Altamira, Mexico, and sailed onto Callao, Peru.
According to the port's operations department, an average movement of 70-90 vehicles per hour was achieved when moving units from the vessel to the bonded area.
Since November 2018, shore operations have been undertaken by APM Terminals' facility, which generally handles a vessel call every two weeks.