The UK made around 100,000 fewer cars in the first quarter of this year because of global supply shortages of semiconductors and other components, equal to a -32.4% decline in output, according to the latest findings from the Society of Motor Manufacturers and Traders (SMMT).
The organisation, which represents the main carmakers in the UK automotive sector, said the Ukraine crisis was exacerbating those parts supply challenges and manufacturers were facing an increasingly challenging economic environment with rising energy costs and other inflationary factors.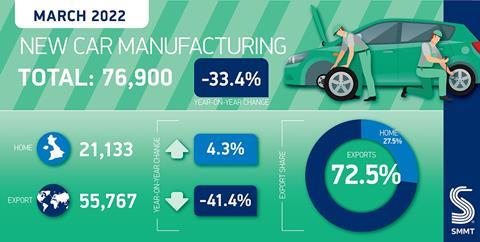 "Two years after the start of the pandemic, automotive production is still suffering badly, with nearly 100,000 units lost in the first quarter," said Mike Hawes, chief executive of the SMMT. "Recovery has not yet begun and, with a backdrop of an increasingly difficult economic environment, including escalating energy costs, urgent action is needed to protect the competitiveness of UK manufacturing. We want the UK to be at the forefront of the transition to electrified vehicles, not just as a market but as a manufacturer so action is urgently needed if we are to safeguard jobs and livelihoods."
In March, production fell by more than a third year-on-year (y/y) to 76,900 units, which the SMMT said was the weakest March since the financial crisis of 2009. That impact was mainly a result of a decrease in production for export markets, which fell by -41.4% for the month to around 55,800. Exports to the US saw the biggest decline (-63.8%), largely because of the closure of "a major plant in Swindon" in July last year, said the SMMT.
Honda closed its Swindon plant last year. The plant, which had an installed annual capacity of 150,000 units, made the Civic Hatchback and Civic Type R. It exported 85% of its output overseas, with 55% going to North America and 20% to Europe.
However, according to the SMMT, the UK still made seven out of 10 cars for export, equal to 72.5% of production. Europe accounted for the majority of that production (67%). There was a small increase in production for the local market, equal to 864 vehicles in March.
March also saw a decline in engine production for both domestic and overseas markets. Output dropped nearly -22.%, to 152,250 units for the month and was down -23% for the quarter to 411,273 engines compared to the same period last year.
However, there were more positive signs for the production of commercial vehicles in the UK, which grew 57% in the first quarter of this year, equal to 25,268 vans, trucks, taxis, buses and coaches. In March, UK commercial vehicles numbers reached more than 10,000 units, a year-on-year increase of 64.3% in the month. Last month also saw commercial vehicle production finally exceed pre-pandemic levels, up 11.3% on output in 2019 as manufacturers ramped up production.