The British arm of Japanese component manufacturer Kasai is seeking to expand its client base to reduce reliance on two key customers, Honda and Nissan. Honda plans to stop producing cars in Britain in 2021.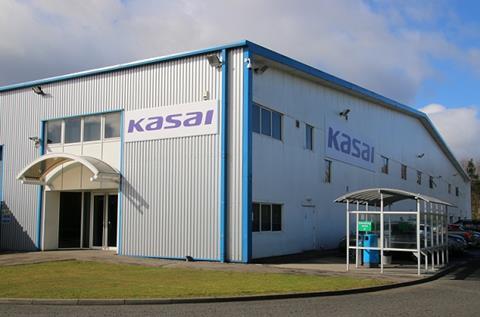 Declining demand for diesel cars, a weaker pound as Brexit uncertainty continues and cost pressures are all adding to Kasai UK's woes. The company produces door panels, finishes and trims at plants in Washington (northeast England) and Merthyr Tydfil (Wales).
In a strategic report accompanying a regulatory filing, Kasai UK referred to its dependence on the two carmakers, and added: "Any variances in the production volumes of these customers does have a significant impact on the sales volume of the company.
"The directors have been, and are still, seeking to expand the company's customer base to counteract the reliance placed on these two key customers. During 2018, Jaguar Land Rover [JLR] products were produced at Washington for the first time and an additional JLR programme was added at Merthyr."
Washington-headquartered Kasai UK's comments accompanied its financial results for 2018 – an 82.9% drop in net profit to £697,000 ($886,000) from £4.08m in 2017 on turnover 6.7% lower at £97m. Operating profit was £910,000 versus £5.04m.
The company said the declines were partly caused by an industry-wide decline in sales of diesel cars, which particularly affected its Washington factory. Though sales volumes from Merthyr for the Honda Civic increased, those for the Honda CRV and JLR Evoque Convertible ceased along with production of those models ending.
On a more positive note, both plants began producing parts for JLR's Evoque in December.
Kasai UK's bottom line also suffered from a weaker pound, which added to the cost of parts imported from the EU, US, Thailand and Japan, after the British population voted to leave the EU.
"Management continues to closely monitor developments in relation to Brexit and the potential consequential political and economic uncertainties in order to mitigate any risks to the business," the company said.
"If OEM production volumes are affected by events arising from Brexit then this will have a knock-on effect on our turnover. The company would need to take immediate reactive steps to reduce its operating costs to offset customer sales reductions in this circumstance.
"An example of this is the continued use of temporary workers to enable quick restructuring and the production workforce in case of significant volume drops."