China's heatwave and severe drought has caused shipping to be stopped in the middle and lower parts of the Yangtze, because of extremely low water levels. The lack of river flow is also affecting power generation, with hydroelectric dams at 50% of their water capacity.
That follows a similar situation in Sichuan province last week, when factories in 19 out of 21 districts were told they would be restricted on power and effectively shut down for six days, until August 20. However, with no relent in the ongoing high temperatures and no rain, that has been extended to the August 25.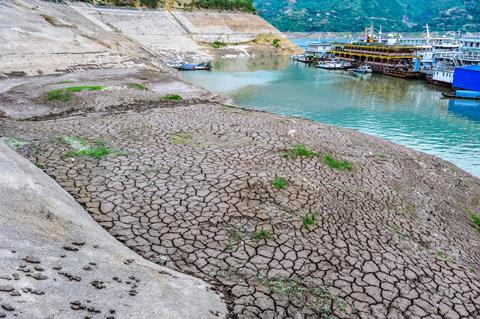 The situation on the Yangtze, which is used for more than 3 billion tonnes of shipping annually, is very similar to what's been happening on the Rhine in Germany. The river has, effectively, dried up without water flowing down to it from mountain areas and with extreme temperatures seen across China.
The main trunk of the Yangtze has fallen by 4.85 metres, revealing ancient statues and slowing the flow to a shallow trickle. Rainfall across China has been 45% lower than would be expected for August and record temperatures have been recorded across the country, especially in Chongqing where previous highs in the upper 30°Cs have been beaten by a high of 43°C.
Temperatures in Sichuan, which would normally see a maximum of 30°C in August, remain at 39°C and are not set to drop below 30°C until August 29. Even then, the drought may not end, failing to relieve the pressure on hydroelectric power.
The restrictions on power used for factories have now reached Shanghai, with Tesla's gigafactory in Shanghai appealing to be allowed more power from Sichuan to keep its operations going.
China has tried the cloud-seeding, in an effort to promote rainfall, without much apparent influence. Rain is predicted at the end of this week in Sichuan but the forecast has moved backwards several times.
China is looking at plans to introduce a nuclear power grid after the country suffered coal powered outages in previous years, now followed by hydroelectric issues. However, this would not be a solution to the coming months, with temperatures set to remain unusually high through September.