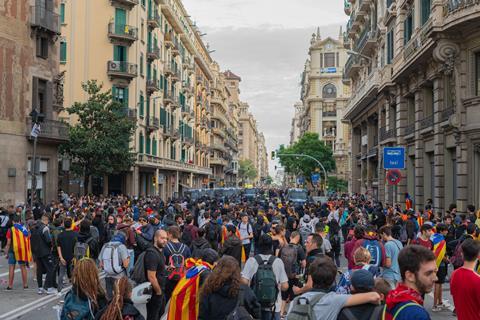 Protests and strike action in the Catalan region of Spain stopped production at Seat's Martorell factory near Barcelona last week and affected activity at the port of Barcelona, as well as the airports and roads.
There has been a week of protest around Barcelona, involving clashes with police, following the sentencing of prison terms by Spain's Supreme Court of nine Catalan separatist leaders.
On October 14 the court sentenced former Catalan vice-president Oriol Junqueras to 13 years of prison for sedition and the misuse of public funds. Sentences for the other leaders ranged between nine and 12 years. They were sentenced for their part in the 2017 attempt to break away from Spain after an independence referendum that was ruled illegal, an event that had its own repercussions for car production in the area. Thousands of Catalan citizens took to the streets following the announcement.
A general strike was called by two pro-independence trade unions – Intersindical-CSC and IAC – shortly before the sentences were announced. The reason for the strikes given was that longstanding demands had not yet been met by the government, including a higher minimum wage.
The strike action hit the port of Barcelona, which was only able to provide essential services during the week. Passenger flights at Barcelona airport was also disrupted when pro-independence protesters clashed with police and flights were cancelled. However, a spokesperson for the airport said disruption to cargo flights was avoided because the terminal is in a different location.
Meanwhile, a spokesperson for Spanish carmaker Seat told Automotive Logistics that the plant had shut down for two days last week.
"Seat management and unions agreed to halt five production shifts – Thursday afternoon and night, and Friday morning, afternoon and night – at the Martorell factory, after verifying the high risk that demonstrations posed to the mobility of employees in the Barcelona area, and the delivery of material," said a spokesperson for the carmaker.
The plant restarted production this week and said there are no longer any delays to inbound parts said the spokesperson.
Nissan, which also has a plant in Barcelona, said that "so far there had been no impact" on assembly.