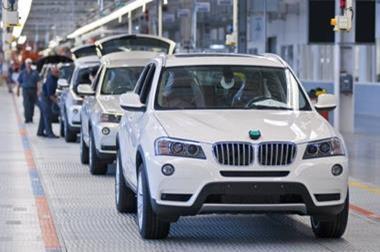 Registrations for new passenger cars in Germany grew by 5% year-on-year to 3.607m vehicles last year.
German OEM groups had a 70.3% share of the market at 2.535m, while foreign makes accounted for the remaining 1.072m of registrations. Each category increased by 5% on 2018, according to figures released by sector body VDA and the government's motor transport authority (KBA).
Last year's volume compares with the high of 3.8m registered in 2009.
Because of weaker demand around the world, German exports fell by 13% to 3.480m which, in turn, dragged down the country's OEM's production by 9% to 4.662m.
Daniel Harrison, automotive analyst, commented: "The macroeconomic backdrop to Germany's industrial sector woes is that their GDP contracted by -0.1 in Q2 2019 and grew by only 0.1% in Q3 of 2019, narrowly avoiding falling in to a recession - which is defined as two consecutive quarters of contraction. Nonetheless this is very weak growth, which does not bode well for their industrial outlook."
Regarding the European C02 emissions that came into force on January 1, 2020, Harrison suggests Germany is "unusually exposed" because the premium OEMs BMW, Daimler and Audi (part of VW Group) produce a lot of high emitting vehicles.
"For these German OEMs, the transition to hybrid and electric vehicles is going to require unprecedented levels of investment. German OEMs are also at real risk of losing market share to OEMs that are ahead of the curve with EVs such as Renault / Nissan, Tesla and at the lower end potentially even being challenged by lower cost EVs from China," Harrison states.
For more analysis on high emitting vehicles see: https://www.automotivemanufacturingsolutions.com/report-climate-change-vs-carmakers/39175.article