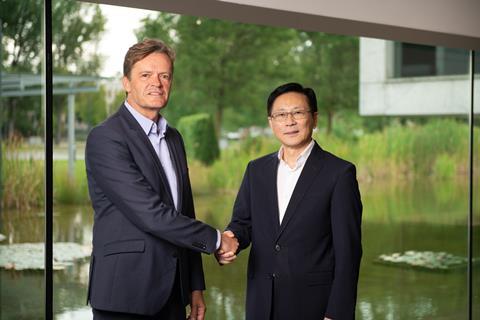 Mercedes-Benz has signed up to having all battery cells manufactured via electricity produced from renewable sources.
The move comes as part of the OEM's sustainability partnership agreed with Farasis Energy (Ganzhou) of China, which uses electricity generated by water, wind and sun to make lithium-ion battery cells.
A carbon-neutral production site to make battery cells for Mercedes-Benz Cars is currently being planned in Germany, to be followed by plants in the US and China.
Some battery cells for next-generation EQ vehicles are already produced using electricity from renewable sources, and the partnership with Farasis will save well over 30% of the carbon footprint of future vehicle models' entire battery by sourcing cells from carbon-neutral production, said Markus Schäfer, member of parent company Daimler's board of management responsible for corporate research and Mercedes-Benz Cars development.
The switch away from fossil fuel-based energy in battery cell production is part of the company's wider Ambition2039 policy, which aims to ensure all of Mercedes-Benz's car production is carbon-neutral in 20 years' time.
The OEM encourages suppliers to follow suit and is currently conducting workshops to identify effective CO2 reduction measures.
"In the first step, the focus will be on steel, aluminium, and battery cells. These material groups, as well as the high-voltage battery, make up a major part of the carbon footprint in the supply chain of a purely electric vehicle," a company spokeswoman told Automotive Logistics.
The Farasis partnership is first proof of those ambitions, and the goal of climate neutrality will be expanded to other suppliers and integrated into existing partnerships as a permanent criterion, she added.
The newly signed arrangement with Farasis stretches beyond renewables and includes development of innovative methods to recycle valuable components and content from lithium-ion batteries.
Also, a prerequisite for any supply contract for battery cells with Mercedes-Benz Cars is observance and protection of human rights under Daimler's Human Rights Respect System.
In addition to production plants in Ganzhou (Jiangxi province) and Zhenjiang (Jiangsu), Farasis has research and development centres in China, Germany and the US.