Several failed attempts to find a resolution to the port workers' dispute at the UK's biggest container port at Felixstowe has resulted in strike action by almost 1,900 workers.
The strike, which began on August 21, is expected to last for eight days and threatens to disrupt the supply of goods to a number of sectors, including automotive. There are a total of 2,550 workers employed at the port.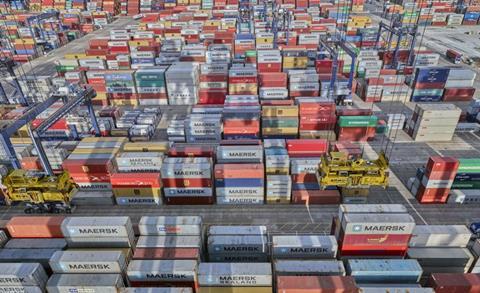 Vessel operators are omitting calls and looking for alternative ports of call, including those on the European mainland. Maersk said it was working on contingency measures to minimise the impact of the strike action on our customers, including changes to the vessel line-up. The situation is adding to bottlenecks across the Asia-North Europe network, which has contributed to an accumulation of delays on the shipping giant's services.
According to Christian Roeloffs, cofounder and CEO, of Container xChange, that situation was made worse by strike action in Germany: "Ports in northern Germany suffered strikes earlier this year as workers there sought higher wages as inflation causes difficulties across Europe," he said. "Our proprietary data shows this resulted in build-ups of containers at terminals and in storage yards. This added to the logistics problems we have seen across Europe this summer where lower water on the Rhine has forced many containers onto rail networks and trucks as barge shipping has become increasingly difficult."
Felixstowe, which handles 48% of the UK's container traffic, equal to 4m containers a year, is a vital link in the UK's automotive industry, which is already facing a number of supply chain pressures. Manufacturing of passenger cars was down 19.2% in the first half of the year, mainly because of shortage in the supply of key components, according to the Society of Motor Manufacturers and Traders (SMMT).
The threat of further disruption comes at a time of widespread supply chain logistics challenges affecting global shipments. Ocean container movements are currently suffering from delays, and inaccurate and uncertain transit times, a situation not expected to improve until the first half of 2023, according to Drewry Shipping Consultants. That in itself will depend on a more disciplined deployment of additional ship capacity by the carriers.
The logistics sector in the UK is also suffering from capacity and pricing pressures related to a serious labour shortage, soaring fuel prices and other inflationary pressures.
As reported earlier this month, the dispute arose from an offer made by Felixstowe Dock and Railway Company (owned by Hutchison Port Holdings) to increase workers' pay by 5%, later revised upward to 7% and a one-off payment of £500. The Unite trade union said that amounted to "an effective pay cut" and demanded 10% for its members in line with the rate of inflation, which is now slightly above that, the highest rate for 40 years.
There has been an acrimonious trade in statements between Unite and Hutchison Ports, with the latter criticising the union for making claims that were "massive exaggerations, misrepresentations or just out and out falsehoods". According to Hutchison those include claims that the port has made £250m in profits over the last two years, a figure Hutchison states is actually £98m.
Unite general secretary Sharon Graham said the port had been prioritising profits over workers and siphoning off tens of millions of pounds offshore every year. Graham said that since 2017 the company has paid out £198m in dividends, most of which had gone to parent companies, with the ultimate holding company being CK Hutchinson Holdings, registered in Hong Kong.
"So, Hong Kong shareholders are getting a bonanza pay-out while the company weeps 'crocodile tears' claiming that they can't pay a decent pay rise here and essentially asking workers to accept a pay cut."