The next Automotive Logistics and Supply Chain conference will be held in Mexico City between November 15-17. It is a welcome return to the physical event post-Covid and there is plenty to talk about.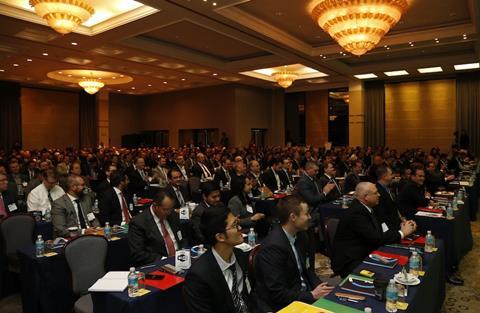 This year's conference will address the main issues in inbound and outbound logistics, shining a light on the successes of Mexico's automotive industry. After a challenging period, opportunities for growth and building resiliency are strong themes at the conference, with key figures from vehicle and parts makers, and their logistics partners bringing expertise to the stage.
Disruption and disaster are, unfortunately, some of the defining issues of logistics in recent years, and although some of the worst of the coronavirus pandemic may be behind us, other challenges are set to persist.
The opening keynote panel and fireside discussion on November 16 will take that head-on, as Chris Styles, vice-president of supply chain management for Nissan North America, looks at how Mexico's industry will not just recover but reimagine itself. Following semiconductor and wiring harness shortages, Mexico is uniquely positioned to claim a larger stake of North American automotive supply. There are also key policy areas to consider in the supply chain, including further developments in the USMCA trade agreement across North America.
Also on the first day, a panel of OEM and logistics specialists will look at how to future-proof the supply chain against further disruption, with digitalisation used to predict and understand the likely impact of future disruptions. Francisco Bravo Gómez, senior director of supply chain at Audi Mexico, Wiebe Helder, CEO at Cargobase, and Adrian Jennings, chief product officer at Cognosos, will look at the most effective ways to prioritise digitalisation and to use data to strengthen processes.
Volkswagen de Mexico's senior director for production control and logistics, Peter Koltai, will outline how the carmaker is updating logistics processes and building more resilience into the supply chain for its huge production volumes in Mexico.
Parts shortages have been a problem since the pandemic but that has been compounded by the rapid change wrought by the wholesale automotive switch to electrification. Guido Vildozo, senior manager for the Americas of light vehicle sales forecasting at S&P Global, will look at the outlook for the market now and where there are opportunities for growth as the industry gears up for major changes.
Balancing lean logistics processes with buffer stocks of inventory and trying to avoid logistics redundancy without affecting production capacity are some of 2022's biggest challenges. Ivan Davila, director of logistics at Nissan Mexciana, Omar Posadas, logistics coordinator at American Axle Manufacturing and Mauro Rodriguez González, will look at how flexibility can help Mexico claim nearshoring opportunities and mitigate rising global logistics costs.
Learn more about the agenda and content for Automotive Logistics and Supply Chain Mexico, and register here
Planning and response
On the second day, a case study into Nissan's mitigation of the semiconductor crisis presented by Gerardo De La Torre Garcia, senior director and advisor of supply chain management at Nissan North America, gives an opportunity to look at how to navigate problems. De La Torre recently won a President's Award from Nissan for helping the company to work through chip supply shortages. Joined by Mark Krug, managing director for the Americas at time:matters, and Todd Skiles, senior vice president of sales, supply chain and dedicated transportation solutions at Ryder, the panel will show how planning and responsiveness can avert crises.
Also on day two, Mauricio Magdeleno, supply chain director for the Americas at American Axle Manufacturing (AAM), will look at how Mexico can better use its talent. Magdeleno will discuss attracting and training highly skilled workers and retaining top personnel in Mexico, as well as where and how to look to recruit the best workers.
Supply chain resiliency is essential to every industry and on the second day of the conference, delegates have the opportunity to hear from outside the automotive world. A panel including representatives from Grupo Bimbo will look at the lessons learned in across industry sectors as different as automotive, and food and beverage, and retail.
Closing out the conference, a session from Siegfried Jung, vice-president of production control, production system and logistics at the BMW Group plant in San Luis Potosi, and Fabio Garcia, head of aftersales for Volkswagen Truck and Bus Mexico, will look at how Mexico's automotive industry can become world-beating.
Reliable production and delivery, supply chain management and forging strong partnerships will all be key to Mexico claiming a larger stake across the automotive industry in North America and beyond.