Toyota Motor Europe (TME) is benefiting from a new multimodal service provided by logistics provider Gefco that uses reusable containers to move automotive parts twice daily on road and rail between Spain and France.
Gefco is working with rail freight provider Novatrans on the new service. In combination with its partner Greenmodal, Novatrans provides freight shipments in Europe that combine road, rail and waterway.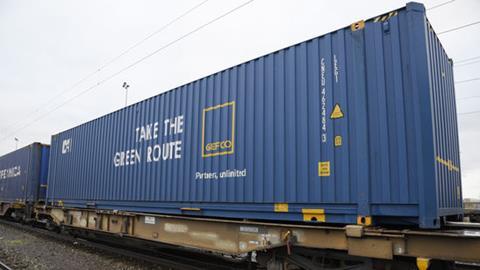 Parts from Toyota's suppliers in Spain are being shipped from Gefco's logistics facility in Barcelona onto a French logistics hub for onward delivery to the Valenciennes car plant run by Toyota Motor Manufacturing France (TMMF). The containers are then returned to Barcelona with reusable packaging for use on future trips, said Gefco.
While reducing packaging waste, the service promises to significantly reduce carbon emissions compared to only using road transport. That falls in line with Toyota's overall goals of reducing emissions from its logistics activity while at the same time making its vehicles cleaner to drive.
At the recent Automotive Logistics and Supply Chain Europe conference in Germany, Leon van der Merwe stressed the importance Toyota placed on making operations in the automotive industry more sustainable.
"If we as an industry and as nations do not limit our CO2 to below this 1.5% impact, actually all the activities we are doing [in the face of recent supply chain challenges] are in vain," he said.
Watch Leon van der Merwe's presentation and discussion at ALSC Europe 2022
Under van der Merwe's direction in Europe, the carmaker is setting out a logistics sustainability programme, including a more strategic use of transport modes, a greater focus on rail and multimodal, cutting truck kilometres and the adoption of sustainable fuels for last-mile truck deliveries.
Talking about the latest multimodal service between Spain and France, Yvon Pasquiou, sales and marketing director for Gefco France, said teams at TME worked closely with his company to design a transport flow that would reduce carbon output.
"We're delighted to able to rise to the challenge of helping Toyota in Europe adopt more sustainable logistics practices, and strengthen our partnership in the process," said Pasquiou.
Gefco has been providing services for TME for 20 years, helping to move parts in France and the UK, along with other European locations.
Gefco was recently bought by container line CMA CGM for an undisclosed sum.