European short-sea, ro-ro shipping provider UECC has taken delivery of its first dual-fuel finished vehicle vessel, which is powered by both liquified natural gas (LNG) and battery technology.
The Auto Advance is the first in a series of three newbuild, hybrid pure car and truck carriers (PCTCs) being built by China's Jiangnan Shipyard. The others are due for delivery in 2022. Each has capacity for 3,600 vehicles on 10 cargo decks.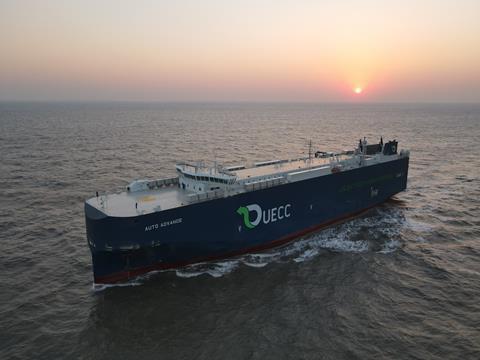 The new vessel is currently in transit to Nagoya in Japan to load vehicles there destined for Europe and will arrive back in Europe in January 2022. According to Bjorn Svenningsen, director of sales and marketing at UECC, the Auto Advance will then most likely be deployed on UECC's trade route taking in Vigo (Spain), Le Havre (France), Zeebrugge (Belgium), Sheerness (UK) on an eight-to-nine day rotation.
The combination of LNG and battery power on the vessels, combined with a new hull design aimed at better fuel efficiency, means they will exceed requirements by the International Maritime Organization (IMO) to cut carbon output from shipping activities by 40% from 2008 levels by 2030.
According to UECC, using LNG compared to normal marine fuels significantly cuts emissions, with CO2 reduced by around 25%, sulphur dioxide (SOx) and particulate matter by 90% and nitrogen oxide (NOx) by 85%. The newbuilds will also meet the IMO's Tier 3 NOx emissions limitations for the North Sea and Baltic Sea, said UECC in a statement.
"Having brought into operation the first-ever dual-fuel LNG PCTCs five years ago, UECC is now taking delivery of the first of three of the world's first dual-fuel LNG battery hybrid PCTC to be built," said UECC's chief executive, Glenn Edvardsen. "This is another big step forward in eco-friendly ship operations that shows we walk the talk."
UECC launched its first LNG vessel, Auto Eco, back in 2016.
The LNG technology is now being combined with an energy storage system from WE Tech that incorporates a battery package from Corvus Energy, which is charged by a permanent magnet, directly driven shaft generator or dual-fuelled generators.