[Updated July 20] VW Group has reported a significant increase in the global delivery of pure battery electric vehicles (BEVs) in the first six months of 2022, despite volatility in the automotive supply chain. At the same time, the carmaker is making greater efforts to deliver them more sustainably.
The German carmaker delivered 217,100 EVs between January and June, a +27% increase on the same period last year (170,900). Battery electric vehicles accounted for 5.6% of total deliveries, up from 3.4% in the first half of 2021.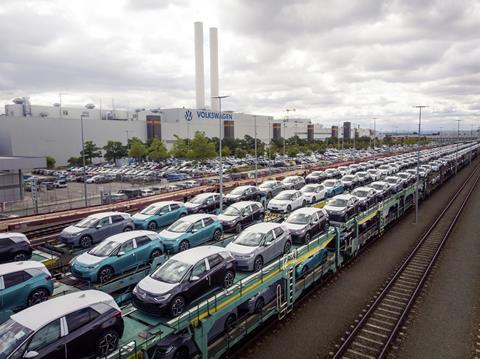 Regarding regions, Europe accounted for the greater share, with 128,800 vehicles delivered to customers, according to the company. That was 700 more than the same period in 2021, equal to a +0.6% increase, but VW Group reports a strong order intake in western Europe, which is up by 40%.
China was VW Group's second biggest market, with 63,500 deliveries. However, it showed a 247% increase in BEV deliveries against the same half-year period last year (18,300), despite the Covid lockdown in Shanghai in the second quarter.
In China, VW's joint venture with SAIC – SAIC VW Automotive – is now producing the VW models ID.4, ID.6 and ID.3, as well as the Audi Q5 e-tron.
Meanwhile, VW delivered 17,000 units in the US, an actual decrease in deliveries of -8.4%. All BEVs sold in the US are imported from VW Group's overseas facilities though the Chattanooga plant in Tennessee will start production of the ID.4 this year.
Overall, global sales were led by the ID.4, ID.5 and ID.3 models (see table below).
"We successfully continued our electric ramp-up despite challenging conditions, especially in the second quarter," said Hildegard Wortmann, head of sales at VW Group. "Demand continues to be strong and we expect an improving supply situation in the second half of the year."
According to Wortmann, deliveries in June showed a clear upward trend and the carmaker is working hard to reduce the high order bank and the delivery times for its customers. Wortmann said the company was committed to achieving a BEV share of 7-8% for the full year.
Cleaner transport strategy
VW Group is trying to make the transport it uses to make and deliver its EVs cleaner for the environment, while at the same time finding capacity efficiencies to compensate for the fact that BEVs are heavier and consumer trends are toward larger vehicles.
"We are of course adapting to the general trend toward larger and heavier vehicles and are constantly working with our partners on a future-proof infrastructure," said a spokesperson for VW Group. "The higher BEV volume comes with a shift in the mix (fewer ICE vehicles), so that only partially additional requirements arise for the network.
The company is regularly reviewing transport capacity and storage, and making adjustments on the basis of its production programme and the corresponding transport it uses, according to the spokesperson.
VW Group wants to increase the number of vehicles it moves by rail in Germany to 60% by 2022 and is working with state-run rail provider Deutsche Bahn to use 'green electricity' to power those rail journeys. By green electricity VW means power generated by wind farms and hydropower plants.
In Germany, the carmaker is also delivering batteries into Zwickau and Emden by rail from the Braunschweig (Brunswick) plant.
Multimodal concept
The carmaker is also developing a comprehensive strategy across all modes of transport to be compliant with the Paris Climate Agreement.
"We are striving for holistic logistics concepts that make targeted use of the strengths of the modes of transport in terms of their contribution to CO2 reduction," said the spokesperson. "These are logistics concepts in which ship, rail and truck complement each other."
One part of that strategy is the strengthening of multimodal transport via hub concepts. To be able to use rail, ideally powered by green electricity, as the most energy-efficient mode of transport for the long haul, requires points for freight transport, with trucks as feeders and distributors.
"In our estimation, the importance of e-trucks will increase significantly," said the spokesperson. "In addition, we see it as sensible to use alternative energy sources where electrification is difficult to achieve ie in vehicle logistics for maritime transport."
For deep and short-sea routes VW is also using more LNG powered vessels. That includes for exports of EVs to the US from Germany via the port of Emden. The carmaker is also using car carriers that use biofuel produced from plant-based residues on coast routes in Europe, which has resulted in an 85% reduction in CO2 emissions.
"Six of the nine ships there will then be will be sailing with future-proof propulsion systems," said the spokesperson for VW Group. "The dual-fuel engine units from MAN Energy Solutions can use both gaseous and liquid fuels. And thus also bio- or eLNG, or bio- or eDiesel."
The carmaker is also making efforts to make logistics for EV production more sustainable with its joint venture partner SAIC in China, where it is preparing and working on alternative transport methods, including green trucks. As Dr Susanne Lehmann, executive director logistics at SAIC VW, explains in the latest edition of Automotive Logistics and Finished Vehicle Logistics magazine, carmaker is conducting pilots are based on a stable and greener planning processes. That includes greater localisation for heavier parts and a resistance to longer truck routes for lithium battery deliveries.
New Auto manufacturing
VW Group has made strong commitments to making less-polluting cars. In Germany it has made its plants in Zwickau and Emden into pure EV manufacturing locations, part of the the company's New Auto strategy.
That commitment is also seen in the carmaker's investment of €10 billion ($10.6 billion) to build a lithium battery gigafactory in Sagunto, Spain as it accelerates the localisation of battery production for its electric vehicles (EVs) in Europe. The 40 GWh gigafactory in Spain represents the single largest industrial investment in the country's history, according to VW.
This month the carmaker also announced the launch of a new battery company called PowerCo that be responsible for global battery activities of the whole VW Group. That move marks an investment of €20 billion and work has started on a battery cell factory in Salzgitter, Germany.
Top selling VW Group BEVs in H1 2022

Volkswagen ID.4/ID.5

66,800

Volkswagen ID.3

26,000

Audi e-tron (incl. Sportback)

24,700

Škoda Enyaq iV (incl. Coupé)

22,200

Porsche Taycan (incl. Cross Turismo)

18,900

Audi Q4 e-tron (incl. Sportback)

18,200