German laser-cutting machine maker, Trumpf, has chartered its own container vessel to transport 49 pieces of machinery and a consignment of parts to the US, with support from DB Schenker.
The company made the move to overcome congestion and delays in the container shipping sector.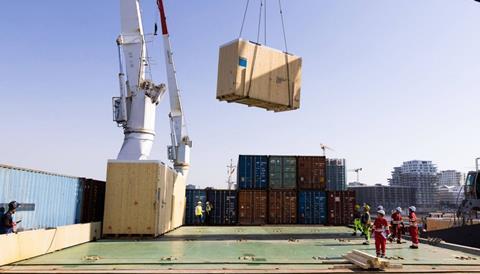 The machines and parts, which were loaded at Hamburg port in Germany by DB Schenker, were delivered to the Port of New York and New Jersey (PANYNJ) last week.
Trumpf made the move to overcome congestion and delays in the container shipping sector and more than two years of constraint on the supply chain. That has made delivery times an increasingly competitive factor, according to Frank Nesselberger, head of global machine logistics at Trumpf.
"The current situation therefore requires creative solutions," he told Automotive Logistics. "At first, it may have seemed absurd for a high-tech company to charter its own ocean-going container ship but the logistics costs for Trumpf made the option more realistic."
By doing so, Stuttgart-based Trumpf said that it has cut four weeks from the delivery time expected by using its own vessel and calling at alternative port terminals.
Fluid logistics
Intercontinental ocean and air freight connections have been hit by capacity restrictions and rising prices, following the Covid pandemic. Nesselberger said that in concrete terms that made existing timetables obsolete, with up to 90% of ships arriving unpunctually.
"The result is a current overload of container terminals in Germany and Europe," he said.
In response, Trumpf's logisticians have been continuously checking the impact of the disruption on deliveries and looking for suitable ways to avoid delay for each situation. That includes using alternative routes, vessels, modes of transport and ports.
"There is no standard solution because the situation is constantly changing," said Nesselberger.
Chartering a vessel from Hamburg has given Trumpf a degree of freedom, though not without a higher degree of complexity in the handling of the freight.
"Different machines, systems and components from Trumpf's entire European production network all had to be available in port on a specific date," said Nesselberger. "We were only able to accommodate for this through a considerable coordination effort of our team. We were even personally on site to supervise the loading."
Economic momentum
According to Trumpf, the move makes it one of the first German industrial companies to charter its own deep-sea container ship. Trumpf said it is one of Germany's largest transporters of oversized cargo to the US, which is its second-largest market and worth €655m ($655.3m).
Trumpf's biggest export market is the Netherlands, with sales of around €840m, thanks to growth in its business with Dutch technology company ASML. Germany is Trumpf's third biggest market. For the last fiscal year ending in June, Overall sales amounted to €4.2 billion, up from €3.5 billion in fiscal 2020/21.
The company said the results were welcome following lower production of machines and lasers systems for global markets because of global supply chain disruption.
"Despite a high order backlog, we ended up making fewer machines and laser systems than we could have done due to the ongoing shortages in semiconductor and electronic components, said CEO, Nicola Leibinger-Kammüller. But the strong economic momentum we're seeing in the US and across Europe is encouraging."