Zufall Logistics Group has set up a subsidiary to consolidate its tyre logistics services in Germany. Zufall Tire Logistics will take over the services previously handled by Zufall Logistics' sister company Müller + Partner. Amongst the customers Zufall Tire Logistics will now serve are Korean suppliers Hankook Reifen Deutschland and Kumho Tire Europe.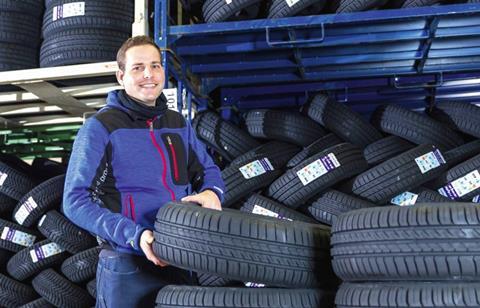 Zufall Tire Logistics is managing more than 1m passenger car and 40,000 truck tyres in a facility in Michelsrombach, central Germany. The facility covers more than 60,000 sq.m and a total of over 1,450 different items are stored there in dedicated tyre racks. The facility sees an annual throughput of around 7m tyres and peak daily handling reaches 60,000 tyres.
The company has invested in more than 23,000 tyre racks, fire protection technology, material handling equipment and a telescopic conveyor belt system at the facility.
Zufall said its services extend beyond the facility and it is handling the entire European part of the supply chain for Hankook from the arrival of tyres at the port of Rotterdam.
"We take care of customs clearance, unload the shipping containers, transport the tyres to the central warehouse and store them there," explained Matthias Schnarr, head of logistics at Zufall. "When an order is placed in our system, we then deliver to their final destination."
Zufall Tire Logistics is also handling returns and claims.
Alongside its Michelsrombach facility, Zufall manages a warehouse in Schlüchtern, with an average stock of around 20,000 truck tyres for German and Scandinavian truck and bus manufacturers.