The Georgia Ports Authority's Brunswick/ Savannah ro-ro facilities are the second busiest in the US. The Colonel's Island autoport in Brunswick, Georgia, is a dedicated ro-ro facility without container competition.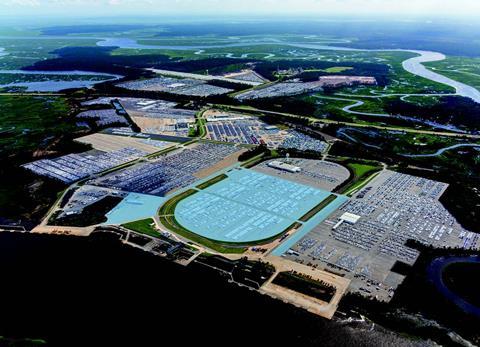 The terminal offers three modern ro-ro berths as well as two on-terminal auto processors, two OEMs doing their own processing, and two marine terminal operators for the ocean carriers. Brunswick's focus on autos and machinery has resulted in a customer base of 20 automotive manufacturers and more than 17 industrial/construction and agricultural equipment manufacturers. Nine steamship lines call the autoport.
Brunswick is also a strategic gateway to rail and road networks. It offers the most efficient, reliable transportation to markets in the south-east, Midwest and across the US to the west coast. In November 2019, Georgia Ports completed the addition of 60 dockside acres (24 hectares) to the ro-ro operation. The new space will increase car capacity by 8,250 spaces. Georgia Ports has completed a new cross-terminal road linking the three vessel berths, as well as a new access road to the island's southside facilities.
These improvements offer a more direct route to existing auto processing lots and new development on the south side of the terminal.
The new dockside expansion increases the terminal rail capacity from 99 to 135 rail cars. Sixty rail car unit trains make direct service over greater distances more attractive to Brunswick's Class I rail roads — CSX and Norfolk Southern. This will allow Port of Brunswick to better serve markets west of the Mississippi River.
In the fiscal year 2019, more than 100,000 vehicles moved by rail to and from Colonel's Island to the states of Georgia, Indiana, Tennessee, Alabama, Missouri, Texas, New Mexico and California. The future 55-acre rail yard, located on the south side of the terminal, is currently in the planning stages. Interstate access from Colonel's Island terminal includes I-95 north-south, two miles away and connecting to both I-16 and I-10 east-west. Rail services are provided by Norfolk Southern and CSX via the Golden Isles Terminal Railroad. This road and rail network puts important inland markets within easy reach. The terminal enables OEMs to move import, export and domestic vehicles through the same facility, creating better efficiencies.
Expanding with clients
In addition to its current world-class service, Georgia Ports is positioned to move forward with manufacturers and auto processors as they expand. There are 470 acres already approved for development by the US Army Corps of Engineers.
Another 140 acres are owned by Mercedes-Benz and International Auto Processing. Colonel's Island autoport has 90,000 processing spaces. Full buildout will provide 150,000 spaces for automobile processing, for an annual capacity of 1.4m cars, trucks, construction and agricultural machinery units.
Brunswick's diverse carrier fleet, superior location and ample space provide Georgia Ports' ro-ro shippers with a vital link to global markets. These strategic advantages have enabled the port to elevate its status as an east coast port of choice for ro-ro cargo.
ADDITIONAL INFORMATION
• Over the past decade, the port of Brunswick has achieved a compound annual growth rate of 9.1% in import and export tonnage, faster than any other US autoport
• There are 470 acres available for expansion on Colonel's Island
• The US south-east is the fastest -growing consumer market by population
• Anguilla Junction Rail Yard provides 39,039 feet (11,889 metres) of track. Rail services are provided by Class I providers Norfolk Southern and CSX Transportation via the Golden Isles Terminal Rail Road
• In addition to the Colonel's Island AutoPort, Savannah's Ocean Terminal has five berths; 200 acres; 36,000 vehicles handled in FY2019; five ro-ro carriers; 1,427,245 sq.ft (132,596 sq.m) of warehousing (fumigation facilities available) and room to expand.