With experience dating back to 1947, the Grimaldi Group is specialised in the operation of ro-ro vessels, car carriers and ferries. It is a dedicated supplier of integrated logistics services, based on maritime transport, to the world's major vehicle manufacturers.
The Naples-based Group also transports containers, palletised/unitised cargo and passengers, with a modern fleet of more than 130 ro-ro multipurpose vessels, PCTCs and ferries.
Growing with trust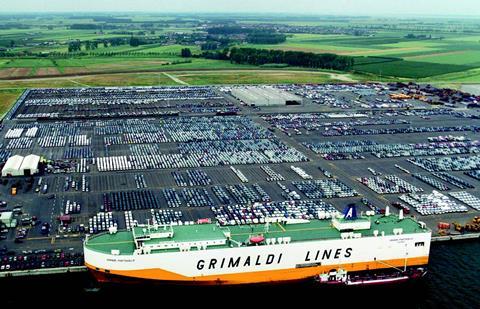 The Group's presence in the maritime transport of vehicles started in 1969 when it introduced a regular service between Italy and England. It rapidly gained the trust of other major car manufacturers who chose Grimaldi's vessels to transport their production output from northern Europe to various Mediterranean countries.
Today, Grimaldi serves over 140 ports in 50 countries in the Mediterranean Sea, northern Europe, west Africa, and North and South America, and its shore personnel and crew number more than 16,000 people.
The Group comprises six main shipping companies, including Atlantic Container Line (ACL), Malta Motorways of the Sea, Finnlines and Minoan Lines. The Finnish company Finnlines runs a fleet of ro-pax and ro-ro vessels in the Baltic Sea and North Europe, while the Greek ferry company Minoan Lines operates a ro-pax service between Piraeus and Crete, and a high-speed service between Crete and the Cyclades Islands.
The Grimaldi Group has also evolved to become a multimodal transport operator offering 'door-to-door' logistics services. For this purpose, it currently operates, together with strategic partners, various car and container terminals totalling over 6m sq.m in the Mediterranean, northern Europe and west Africa, as well as trucking companies for the transport of cars and containers.
The Group has also invested in the development of the 'Motorways of the Sea' concept in the Mediterranean. Currently, a modern fleet of ro-pax ferries is deployed on short-distance routes covering Italy, Spain, Malta, Tunisia, Morocco and Greece, for the transport of trailers, cars and passengers.
Commended and certified
The high-quality services offered by the Grimaldi Group have been commended by international clientele including General Motors, Fiat Chrysler Automobiles, Ford, Honda and Land Rover.
Finally, the Grimaldi Group is the first Italian shipping company to have obtained the SMS, ISO 9001 and ISO 14001 certifications for safety, quality and environment.
Moreover, the Group is also the first shipping company in Italy to be awarded the status of Authorized Economic Operator - Complete (AEO-F).