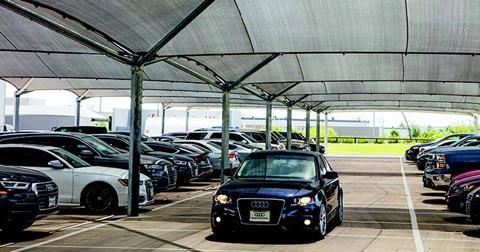 VPS is a pioneer, innovator and leader in the automotive hail protection market. For more than 25 years, our auto manufacturer and dealership clients have relied on us to provide reliable, sitespecific hail protection solutions for their valuable inventories.
VPS offers a wide range of structural options, all of which are designed and engineered to local building codes. These permanent, modular systems are virtually maintenance-free and provide assembly plants and logistics hubs with peace of mind in knowing their inventories are protected from hail events.
Our system consists of a steel frame with a cable-tensioned, industrial strength HDPE membrane. This membrane features a continuous roof, preventing hail from damaging vehicles staged beneath. The HDPE material also allows considerable diffused light to pass through from the sun and high-mast lights, essentially eliminating the need for additional lighting.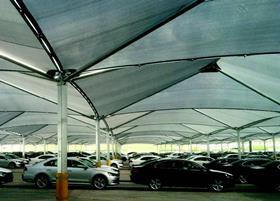 VPS's permanent, modular design enables a custom coverage footprint for each individual truck-away lot or railhead yard. We currently have multi-acre hail protection installations in use at a number of auto assembly plants in North
America, including: Smyrna, Tennessee; Lincoln, Alabama; Chattanooga, Tennessee; Spartanburg, South Carolina; Arlington, Texas (US); San José Chiapa, Puebla; Ramos Arizpe, Coahuila; and San Luis Potosi, SLP (Mexico).
Our business is vertically integrated, providing comprehensive resources that result in successful projects and enduring partnerships. We are experts in the areas of feasibility studies, scope analysis and definition, design and engineering, manufacturing, project management and construction.
Our project consultations are often provided gratis and we prefer to involve experts from across our company during the consultation phase to ensure all project interests are considered at the outset. Most importantly, our project management and scheduling teams employ client-integrated project planning methods throughout the construction process that enable our clients to conduct normal business operations without disruption.
VPS products have been proven effective over many years in drastically reducing hail damage to vehicles. We are a leader, an innovator, and the one you can trust.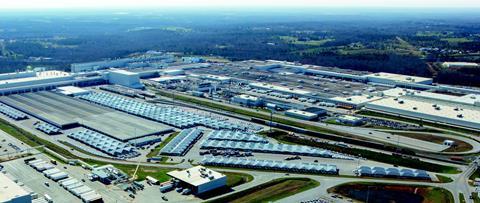 ADDITIONAL INFORMATION
• VPS is focused on asset protection, in which the automotive industry makes up 90% of our business.
• VPS provides hail protection for almost every brand sold in North America at the dealership and OEM level.
• Annual turnover: $40m-$70m
• VPS has offices in Europe and North America, and has the ability to do work globally. The majority of our work has been in North America.