Australian-based battery maker, Recharge Industries, has successfully bid to buy Britishvolt following the start-up company's collapse last month. The move could rescue the UK automotive industry's ambition for a lithium-ion battery facility to support electric vehicle (EV) production in the country.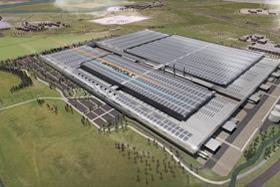 Britishvolt had started work on a facility in Blyth, in the northeast of England, which was originally due for completion in 2024. The battery making start-up had ambitions to complete the UK's first large-scale battery manufacturing facility, with annual capacity for 300,000 units, equal to 48 GWh. Britishvolt had secured £1.7 billion ($2 billion) early last year, from both private investors and government funding. However, there remained investment shortfalls in the development of its sites, which led to its collapse on January 17 this year.
On February 6, Recharge Industries, which is already building a lithium battery gigafactory in Geelong, Australia, was announced as the preferred bidder to buy the Britishvolt business. The company is a division of New York-based portfolio company Scale Facilitation.
The details of the deal have not been revealed yet, but it is expected to be complete in the next seven days.
Britishvolt had signed memorandums of understanding (MoUs) with Aston Martin and Lotus to design, develop and industrialise battery packs. It remains to be seen if those agreements are back on the table.
Following the UK government's commitment to provide £100m for Britishvolt through its Automotive Transformation Fund (ATF), logistics property investor Tritax Management and investment company Abrdn also announced a funding plan for the project at Blythe. However, the conditions for investment had not been met, so no finance was not released.
International competitors
According to Pedro Pacheco, vice-president of research, automotive and smart mobility, advanced manufacturing and transportation, at industry analyst Gartner, any new bid for battery making in the UK needs to be a shrewd one.
Pacheco said the fast growth in EV sales has led to something akin to an arms race for battery production capacity. However, he said it was important to take into account the expertise of those battery makers that are better established and more technologically advanced.
"We need to see the EV battery market is not short of contenders and all the truly big players are based uniquely in China, South Korea and Japan," said Pacheco. "These players command a great deal of volume that allows them to deliver great economies of scale and, hence, competitive prices."
Pacheco went on to say that governments and private investors willing to go in on battery manufacturing cannot afford to be naïve.
"Opening a new battery factory won't be enough, per se, to thrive and conquer a major share of the battery market," he told Automotive Logistics. "These new players must command also major volumes and, as well, excel in technology. Incumbents that don't deliver in either of them will be victims of a boom-bust cycle."
The real question that companies such as Britishvolt need to ask is what their main competitive advantage would be in the market in which they aim to produce batteries, and whether it was relevant to carmakers.
"Battery makers who don't have a good answer for this will see their situation on the market growingly compromised until eventually they are facing their demise," warned Pacheco. "It's not yet clear what Recharge Industries plans to do with Britishvolt but their priority should be to deliver a compelling response to these questions if they want this project to succeed on the long run."