Following the successful completion of project Isabella at the German port of Bremerhaven, BLG Logistics is working with its project partners, the Bremen Institute for Production and Logistics (Biba) and software specialist 28Apps Software, on the next phase of development – Isabella 2.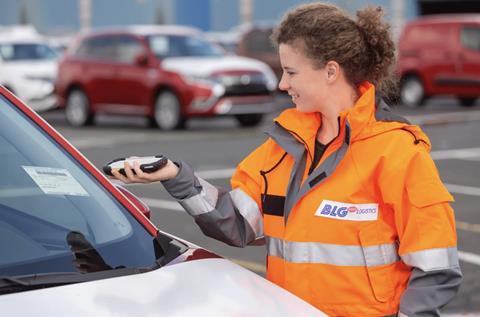 The original three-year Isabella research project was set up to develop and test an intelligent planning and control system for finished vehicle port processing, focused on the terminal space. It was tested at BLG Logistics' AutoTerminal in Bremerhaven port and featured an interactive digital visualisation of the terminal area, complete with all relevant planning information, such as the occupancy, displayed in various levels of detail.
According to BLG, the system presents different planning scenarios based on simulations and displays the results on a multi-touch interface. With the help of mobile data acquisition and real-time status reports, the control algorithm enables the individual assignment of travel orders and optimises the routes that can be used, as well as a providing quick adaptation to changing conditions.
"The assignment of the orders for the vehicle movements on the terminal depends on the location of the vehicles and drivers," explained BLG in a statement. "For this purpose, a control algorithm was developed and initially tested within a simulation environment that digitally depicts what is happening at the terminal. In the real system, communication between the control system and the staff at the car terminal takes place via mobile apps. A separate location system was developed to determine the vehicle locations."
Modal links
While the original project focused on the terminal space, Isabella 2.0, which will also run for three years, aims to integrate those processes with the loading of vehicles on external modes of transport, including ship, train and truck.
This next stage requires the vessels, trains and trucks to receive data on vehicle position and status. To do this, the project partners want to use the new 5G mobile communications standard or build a local communication network, including through ad-hoc and mesh networks in combination with radio standards such as WLAN, Bluetooth or Long Range Wide Area Network (LoRa).
BLG said logistics performance in the system is to be further improved with the help of methods of sensitivity analysis and AI tools enabling the use of more criteria, including the terminal fill level, the vehicle mix and the personnel capacity, to better optimise the process.
The Isabella projects are being funded by the Federal Ministry for Transport and Digital Infrastructure (BMVI) through the programme for Innovative Port Technologies (IHATEC), and supported by the project management agency TÜV Rheinland. Isabella 2.0 will receive €3.7m in funding, roughly equivalent with that given to the first stage of the project.