The venture capital and mobility division of Jaguar Land Rover (JLR) – InMotion Ventures – has invested an undisclosed sum in blockchain technology provider Circulor. The carmaker said the move would ensure the sustainable and ethical sourcing of parts and materials, including for the production of lithium batteries used to drive its electric vehicles (EV).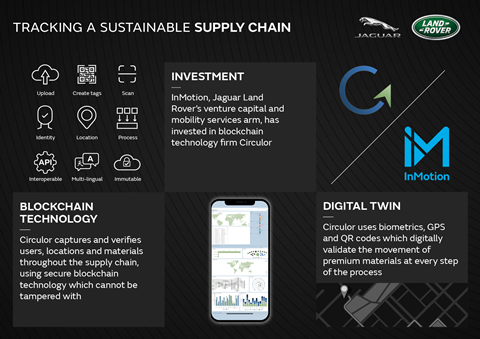 Blockchain, or distributed ledger technology, records, duplicates and distributes transactions across a digital ledger that is impossible to change, providing an accurate record of asset history. Circulor's technology uses a combination of GPS, biometrics and QR codes to digitally verify the movement of raw materials through each stage of production and supply.
"This investment is further evidence of Jaguar Land Rover's commitment to improving the sustainability of its supply chain around the globe and will help authentically trace raw materials from origin to supplier, eventually to vehicle," said Sebastian Peck, managing director of InMotion Ventures. "The implementation of blockchain technology provides a great opportunity to make a systemic change in supply chain compliance, not just for the automotive world but for other industries, too."
Earlier this year Volvo made a similar investment in Circulor to provide visibility into its battery supply chain. Circulor is also working with Mercedes-Benz on a project to improve transparency on how much CO2 is being emitted in the transport of source materials.
"Our blockchain technology has already proved its worth in tracking materials, and we are excited to innovate further with Jaguar Land Rover and its global supply chain," said Douglas Johnson-Poensgen, CEO and founder of Circulor. "We believe the digitalisation of the supply chain is key to ensuring traceability between the multiple intermediaries that handle the material between its origin and the manufacturer."
Traceability of raw materials used in the production of lithium-ion batteries, such as cobalt, is one of the main sustainability challenges faced by carmakers today and there are a number of responsible sourcing initiatives aimed at cleaning up the supply chain.