Linde, which makes forklift trucks and warehouse technology equipment, is now offering the iw.hub autonomous mobile robot (AMR) as part of its service and supporting that deployment with the central cloud platform Anyfleet.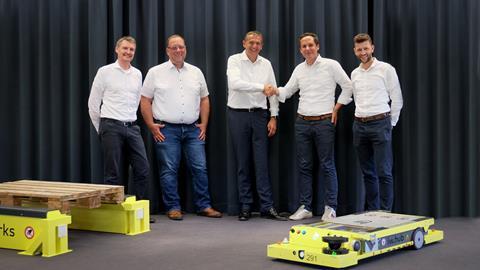 The iw.hub can transport goods weighing up to 1,000kg by freely calculating routes using simultaneous localisation and mapping (Slam) navigation technology. That Slam technology, which is provided through idealworks Anyfleet system, removes the need for any structural adjustments to existing facilities, such as permanent navigation transmitters, markers, magnets or QR codes.
The iw.hub equipped with special Nvidia AI steering modules that allow it to learn and apply different responses to people and objects. It is driven by an integrated battery module from the BMW i3 electric car that can last for at least an entire shift.
"Through this collaboration, we are taking another important step in our partner integration," said idealworks' CEO Michael Schneider. "In addition to our own sales and distribution management, we rely on Linde Material Handling as trusted brand to make our product range accessible to an even broader client base and to move closer to our goal of being the solution provider for intralogistics," said idealworks' CEO Michael Schneider.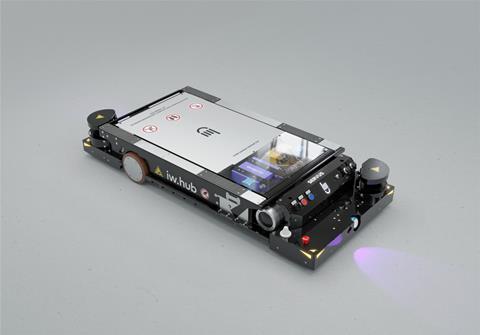 Stefan Prokosch, senior vice-president of brand management for Linde Material Handling, said the company welcomed the addition of the idealworks' technology.
"This expansion enables us to offer and implement integrated logistics solutions for our customers," he said, adding that Linde would be able to handle diverse material flow requirements in production supply.
Pictured above (left to right): Markus Bauer, COO at idealworks; Matthias Merz, senior director software solutions at Linde Material Handling; Markus Schmermund, vice-president of product management automation and intralogistics solutions at Kion Group; Michael Schneider, CEO at idealworks; and Adrian Litterst, senior partner manager at idealworks