Correctly analysed and refined data is essential for making the right decisions when it comes to supply chain planning, especially in an era of almost continuous disruption. Supply chain data has never been more critical to automotive businesses. What is also important is that the information gathered is shared between industry partners.
GM has been investing a significant amount in data analytics with aim of better forecasting, according to Edgard Pezzo, executive director of global logistics and containerisation at the carmaker, who was speaking at this year's Automotive Logistics and Supply Chain Global conference in Detroit.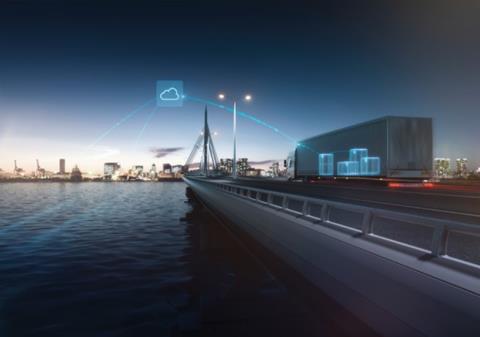 "That started with the pandemic, when we realised we would have a lot of difficulties [in terms of transport capacity] when the assembly plants went back to work," said Pezzo. "We started working internally and cross-functionally to better understand the data we had on when plants were going to start producing again, and what was going to be the gap in terms [parts] of volume necessary to keep them running."
Automating the tracking of material is one area GM has been focusing on and Pezzo understood that further improvements to the quality of the data being gathered was a priority. The carmaker has been working with supply chain technology company AThingz on improving its data gathering and analytics for better shipment forecasts and predicting disruption.
GM is also working with transport visibility software provider, FreightVerify, to gain better visibility on both parts and finished vehicle shipments. The FreightVerify tool works with GM's OnStar GPS technology.
"We can identify where the vehicles are as well as where the parts are," said Pezzo. "This is a tool that is helping us a lot and we continue to implement it. Today we have a lot more visibility of where our parts and vehicles are."
Integration challenge
The technology used is developing rapidly and there are new digital tools being made available on a daily basis. That proliferation of digital software brings with it a new challenge in how to connect the tools with existing legacy systems, according to Eva Ames, vice-president of the Electrification and Mobility Competence Center at logistics provider DSV.
"There is huge risk in changing the [existing] data systems… that are core to every aspect of company life," said Ames. "Changing the data inputs to allow these new tools to integrate with the existing data is a huge risk and it is going to be tough to find a way for all these tools to exist."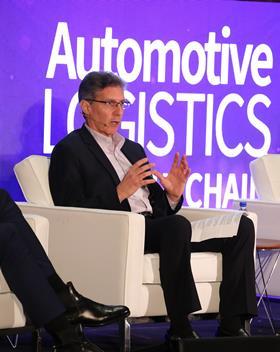 According to Ames the industry is held back by existing EDI technology, which limits the input and the quality of data. That is further complicated by the differing international communication standards.
"With every country having a different communications standard, or not having one at all, and with every shipping line and carrier reporting data and milestones in a different way, it is really hard to get data in a file that is useful through EDI," noted Ames.
Dollars for data
Therefore, companies are investing more in digital tools to improve the value of the data they are gathering from the supply chain. At tier supplier Johnson Electric, Raman Mehta, senior vice-president and chief technology officer, said the company was creating tools of its own to improve data analytics for better decision making.
"We are trying to empower our planners so they have a holistic view of the entire supply chain, rather than being siloed," said Mehta. "We are big on conquering planning and looking at cloud tools that can take a lot of the data and crunch it."
At parts supplier IAC Group, Kelly Bysouth, chief supply chain officer, said refining the data the company was gathering from its base systems was important and it was working hard on standardising those systems. On top of that, IAC is using data analytics tools to pull the data and share it with its supplier and logistics partners.
"One of the biggest tools we have as a tier one is data, and getting that data to do the work for us, rather than spending all of our time data mining," said Bysouth. "That is one of the things we are still working on that is absolutely critical."
Data breaches
However, there remain problems with the quality of data available and the willingness to share further down the supply chain. Mehta said problems were caused by the fragmentation and poor quality of data. Johnson Electric is working to improve its bill of materials data and making continued efforts to map all of its incoming commodities.
Ananth Ranganathan, senior manager for supply chain strategy and digitalisation at Nissan North America also noted the gaps in the supply chain.
"The intent from the leadership is that we have seamless integration but when you look at the challenges you still have people with the mindset that it is their data and they don't want to share it," said Ranganathan.
He said the automotive eco system needed to be evolved and the industry needed to double up on governance to ensure that everyone was participating by making supply chain data available to everyone.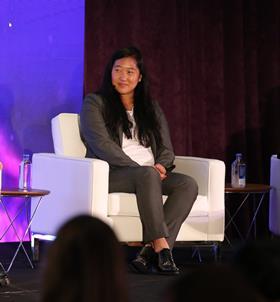 Sharing that information with OEMs and other suppliers is important for improving forecasts and predictions. Mehta said that the larger OEMs and tier one suppliers are putting their demand signals and long-range forecasts into a digital format that can be shared. Once that data is shared, collaboration improves and planners can run 'what if' demand scenarios, which helps protect customer service levels and profitability, according to Mehta.
"We now want to take the same behaviour on to our suppliers," he said. "We are creating a digital twin of the supply chain. It is a big effort but I am convinced our board and leadership is completely behind the initiative. They believe it can improve customer service, profitability, and our reaction time. It promises a truly agile supply chain."
Crunching and connecting
The timely sharing of quality data is critical to a flexible supply chain, said James Williams, vice-president of global key accounts at Ceva Logistics.
"Having comprehensive visibility tools that allow you to collect data across all the modes of transport, [means you can] crunch that data and start to make any dynamic mode changes required to meet the needs of the plants," said Williams.
Ceva is also working with FreightVerify to improve transparency in the movement of parts and has invested more in control tower technology. Williams said that had helped logistics planners understand what needs to be where, and when.
"You can manoevure the assets accordingly… and connect with the visibility partners. The community then meets the needs of a carmaker such as GM," said Williams.
According to Mehta, the end goal of this data analysis and collaboration is a completely autonomous supply chain.
"If you have enough data the system can correct itself," said Mehta. "We want to be in a place where the entire organisation is exception based. That will require a big effort and we have a long journey ahead.
Videos and interviews from the 2022 Automotive Logistics and Supply Chain Global Conference, which was held September 20-22, 2022 in Detroit, are available to view in full to registered users of Automotive Logistics. Watch all videos here