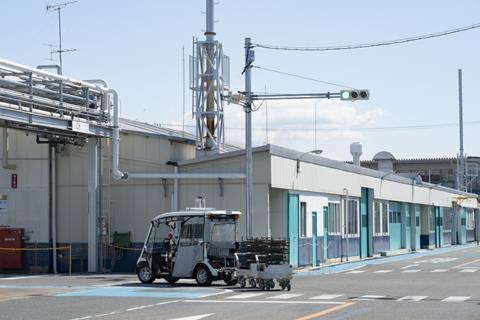 Yamaha Motor has started trials using autonomous vehicles to move parts to assembly lines at its Hamakita production plant in Hamamatsu. The Japanese motorcycle maker is working with Tier IV, a self-driving technology provider, and said the trials, which began in March, are a step toward creating a 'smart factory' and addressing the chronic labour shortages in Japan which has a large ageing population.
Japanese manufacturers are looking for industrial automation because there are simply are not enough people to do the work required.
Tokyo-based Tier IV specialises in developing self-driving vehicles through an open-source operating system known as Autoware.
The move to automation also helps address the growing need for high-mix, low-volume production, said Yamaha.
The companies have formed a joint venture called Eve Autonomy to take over the pilot project beyond April and to initially provide an autonomous transport service to Yamaha's manufacturing plants in Japan and overseas. However, the joint venture will also eventually offer of services to other manufacturers. Tier IV will combine its Autoware operating system and Yamaha's vehicle body development technologies to make self-driving vehicles and industrial carts for sale or lease, with subscription-type services also available. Eve Autonomy will also offer aftersales support and maintenance services.
The setup will enable customers to respond nimbly to demand fluctuations and reduce the initial costs of implementation at their factories, said Yamaha and Tier IV.
"As the next step, the company plans to leverage the knowhow it gains in optimising the services at Yamaha Motor manufacturing plants to provide highly functional and reliable solutions to general customers," the companies said.
With a nod to the coronavirus crisis, Tier IV's founder and chief technology officer, Shinpei Kato, said: "With the tough times the world is currently facing, we will do our best to provide something positive."