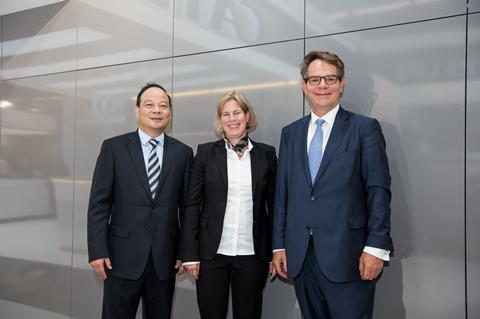 Chinese battery manufacturer Contemporary Amperex Technology Limited (CATL) has signed up to providing lithium-ion battery cell modules worldwide to Daimler Trucks & Buses.
CATL's president Jia Zhou described the partnership as an important step forward to "realise our shared vision of a more sustainable society in the near future".
The CATL-supplied cells will be used in the German lorry manufacturer's electric truck portfolio due to be introduced to markets from 2021. Models include the Mercedes-Benz eActros, Freightliner eCascadia and Freightliner eM2.
Battery systems' development stays with Daimler while battery pack assembly will be carried out at the group's Mercedes-Benz Mannheim plant in Germany and Detroit factory in Michigan.
"As the world's leading truck manufacturer, we strive to be first-to-market with series production zero-emission transportation solutions on a global scale," said Gesa Reimelt, head of e-mobility group Daimler Trucks & Buses.
"Already today, we have battery-electric trucks in customer operations around the world. Working with CATL as a strong global partner will go a long way in providing a wide range of electric trucks for series production from 2021 onwards," she added.
Frank Reintjes, head of global powertrain, e-mobility and manufacturing engineering Daimler Trucks, said that by use of intelligent platforms and shared modules the company will fulfil customers' needs with speed-to-market and best-available technology.
The group is testing its electric truck fleet with clients. The heavy-duty Mercedes-Benz eActros, with a range of around 200km, is undergoing intensive customer trials in Germany and Switzerland. The first handover to a customer took place last year.
Across the Atlantic, the medium Freightliner eM2 and heavy-duty Freightliner eCascadia trucks are being tested by clients in the US.
Also, around 150 light-duty Fuso eCanter are with customers in cities, including New York, Tokyo, Berlin, London, Amsterdam, Paris and Lisbon.
CATL has battery manufacturing plants in Fujian province, where it is based, and Jiangsu and Qinghai provinces in China, plus Erfurt in Germany.