Toyota and Panasonic are to form a joint venture called Prime Planet Energy & Solutions to manufacture automotive batteries. As well as a supply option for Toyota, the company will sell batteries to the wider automotive market. The move comes at a time of increasing demand for lithium-ion batteries as the market for electrified vehicles takes off around the world. In both Europe and China, for instance, sales of fully electric powertrains are forecast to increase nearly sevenfold by 2030 according to the latest information from Ultima Media's business intelligence unit.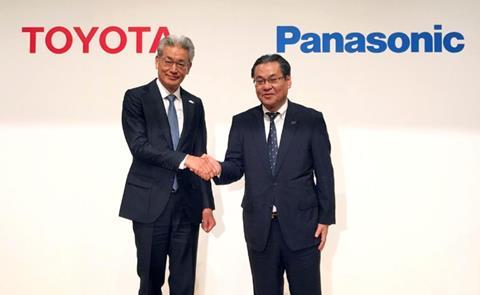 Prime Planet will specialise in developing high-capacity and high-output automotive prismatic (or softpack) lithium-ion batteries, so called because the cells make optimal use of space by being layered or arranged in spirals within the casing. The companies said the batteries will be cost effective and safe.
The decision to go-ahead with Prime Planet comes just over a year after the companies signed a business integration contract with a view to establishing such a venture.
Among other expected lines of business are development, manufacture and sale of automotive solid-state batteries and next-generation automotive batteries.
The venture will be headquartered in Tokyo, have around 5,100 employees, including 2,400 in a Chinese subsidiary, and will formally begin operations on April 1. Toyota will own 51% of Prime Planet, Panasonic the rest.
The latest move is part of a trend amongst carmakers to either establish closer ties to battery makers in an effort to secure lithium battery supply in what is becoming a fiercely contested market, or make the batteries themselves (as Tesla has done).
Toyota has also agreed to work with China's battery manufacturer Contemporary Amperex Technology (CATL) for the supply and development of new energy vehicle (NEV) batteries in a move that diversifies supply. Honda has also signed a deal with CATL last year to diversify its supply sources and Daimler Trucks & Buses signed a deal with the battery developer for the supply of battery cells, though in this case Daimler is retaining battery systems development inhouse. CATL is also supplying the cells for BMW's battery manufacture.
More carmakers are also moving into the production of their own batteries and are choosing to make them as close to their assembly plants as possible to overcome the significant challenges of moving and storing lithium-ion batteries, which are designated a Class 9 Dangerous Good. For example, BMW is currently operating three battery factories globally: in Dingolfing, Germany; Spartanburg, USA and Shenyang, China. These battery factories are supplying the local assembly plants.
"Transportation of batteries is not easy because of weight, safety and other considerations," said a spokesperson for BMW. "Therefore, the BMW Group is producing the batteries as locally as possible." [Read more about BMW's strategy]
Longer term, Toyota is developing its own solid-state battery and is expected to unveil a vehicle driven by the technology at this year's Olympic Games in Tokyo, though mass production of the batteries is not expected until the middle of the next decade. Volkswagen Group also plans to offer cars with solid-state batteries around that time, as seen in the Audi PB18 E-tron concept.