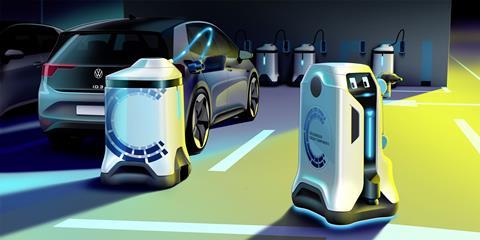 Volkswagen Group Components (VW Components) is developing an autonomous mobile charging robot for electric vehicles (EV). The company, which was set up this time last year, said the robot will bring the charging infrastructure to the vehicle, rather than car users having to spend time looking for available stations.
As can be seen from this video, the robot brings with it any number of mobile energy storage devices powered to 25kWh, which it connects to the car that needs charging. The robot can then either return to its station or carry out another charging task. Its compact design, which includes cameras, laser scanners and ultrasonic sensors, allows it to move around parking areas that have restricted space and may have other moving obstacles.
"The mobile charging robot will spark a revolution when it comes to charging in different parking facilities, such as multi-storey car parks, parking spaces and underground car parks because we bring the charging infrastructure to the car and not the other way around," said Mark Möller, head of development at VW Components. "With this, we are making almost every car park electric, without any complex individual infrastructural measures."
A spokesperson for VW Components said the charging robot was currently a study but affirmed the potential applications had a wide range, including for the outbound distribution network.
Retaining adequate charge for EVs being distributed from the assembly plants to the dealership network or end user is currently a topic of debate as sales of EVs increase. At the most recent Automotive Logistics UK summit, held at Jaguar Land Rover's Castle Bromwich plant back in November, delegates discussed the need for a better charging infrastructure to support EV distribution. That infrastructure was needed, at both inland distribution yards and ports, to ensure a minimum standard of 25% vehicle charge was achievable prior to loading EVs on finished vehicle carrying equipment.
Jaguar Land Rover's plant has a range of charging stations on site and carmakers are exploring a range of new technologies to ensure EVs retain adequate charge for outbound distribution.
Kia Motors has also recently announced that it has invested £20m in a charging infrastructure to support the inland distribution of vehicles imported to the UK from Slovakia and South Korea.
VW Components' robot will be the first autonomous mobile charging unit for garage applications.