Carmakers and their outbound logistics providers are dealing with a strong rebound in North American vehicle sales post-Covid, which has taken the supply chain by surprise.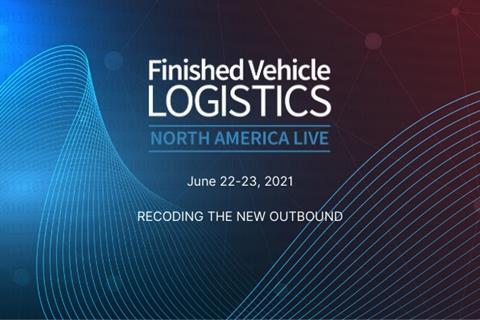 However, what the Covid-19 pandemic gave OEMs and their logistics partners was a chance to better coordinate by looking at processes anew and identifying where existing problems in the outbound supply chain lay hidden by day-to-day activity.
Greater coordination across road, rail and ocean modes in outbound services promise much needed efficiencies and OEMs are looking for logistics expertise and network insight from their suppliers to solve problems that occur on a daily basis.
A more coordinated and collaborative multimodal network for distributing vehicles is as important for the future of carmaking in North America as infrastructure investment and trade negotiation. At the same time, infrastructure and trade are likely to improve, with a USMCA trade deal that is now in its ninth month of enforcement, and a new administration in the US that has already committed to improving supply chain networks, with an executive order that Joe Biden said would address vulnerabilities in US supply chains across critical sectors of the economy.
President Biden is also taking a new line on sustainability with the objective of increasing electric vehicle production in an effort to reduce emissions by 50% by 2030 and net zero carbon by 2035. That is being matched by a rapid expansion in plans by all the major OEMs in the US for EV production, which will have a significant impact on the outbound supply chain.
Strong and steady recovery
North America production shrank to around 13m last year but is expected to recover to 16.1m in 2021 and maintain a plateau of around 16.5m from 2023, with the US accounting for the majority of that production, at around 11.2m annually.
The shutdowns between March and May last year resulted in a decline in US vehicle manufacturing of 20% to 13m units and the recovery of that lost production will run into 2022. That production will be predominantly to meet demand for pick-ups and SUVs in North America, though those rapidly expanding plans for EV production are expected to contribute up to 250,000 units to the 16.3m units of output forecast for next year.
This strong but steady recovery and gradually increasing powertrain mix is going to test the outbound transport sector as it continues to deal with bigger and heavier vehicles, and those that require different handling and a charging infrastructure.
Ambitious plans for more consolidation on the rail network and greater capacity at the vehicle handling port terminals are being matched by the development and take up of digital tools by those involved in outbound logistics space. The continuing need for accurate tracking of vehicles in the outbound supply chain became more of a critical issue last year and the lessons learned are being applied for more efficient dealer deliveries going forward.
At the same time there are changes to the dealer network. Through Covid, customers turned to online methods of buying cars and having them delivered. While it may not replace the traditional dealer process altogether, it looks certain that digital tools will play a bigger part in purchasing, delivery and aftermarket services in the future.
These trends and others will be under discussion at this year's Finished Vehicle Logistics North America Live conference, which takes place between June 22-23.
The Covid pandemic has exposed continued gaps in supply chain planning, resulting in a negative impact on production, lead times and costs. Vehicle logistics has proven more resilient with each wave of the pandemic, adjusting to volume swings and new ways of working without losing efficiency. The industry has also pivoted quickly to new sales channels, including online orders and contactless delivery. It's an industry looking ahead to understand the impact of EV and technology through the supply chain.
So, if there is one conference you must attend this year, it's Finished Vehicle Logistics North America 2021. Join the debate, listen to news, views and perspectives and help the industry reset its trajectory for the future.