BLG Logistics is leasing an additional 60,000 sq.m of space next to its AutoTerminal at the German port of Bremerhaven for the provision of services for high and heavy equipment. It will start operations there at the beginning of July this year, with plans to develop a facility for the provision of technical services by 2026.
The site, which is owned by MWB Grundstücksverwaltungs, is currently used for shipyard operations. It offers two berths with a 600-metre-long quay. BLG said the lease included the use of installed cranes that would enable the assembly and dismantling of large pieces of equipment.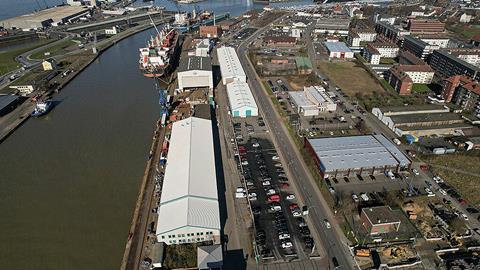 BLG handles around 1.2m tons of high and heavy goods a year, including rolling construction machinery, tractors and other heavy goods. Its existing ro-ro terminal at Bremerhaven has a dedicated are of 340,000 sq.m, including 20,000 sq.m of covered space.
Developing additional space adjacent to its automotive terminal will enable BLG to offer more high and heavy services, as well as free up space for the storage and ensure the stable throughput of passenger car volumes and other cargoes. It will have direct access between the vehicle terminal and the MWB area, as well as road access for delivery and pick up of equipment.
"With this investment, we are responding to the increased demand in the handling of self-propelled units, breakbulk cargo and project cargo, and are strengthening our high and heavy segment in the Automobile division," said Matthias Magnor, chief operating officer (COO) of the BLG Group.
In other news, BLG recently began container shipments of components for Mercedes-Benz Vans from its facility in Düsseldorf, Germany to the commercial vehicle maker's US plant in Charleston, South Carolina.
BLG is responsible for order processing and shipment of components from European suppliers, as well as for bundling the goods and information flow at the Düsseldorf facility. From there BLG sends containers to Antwerp and Rotterdam container terminals.