European ro-ro operator UECC has launched its first pure car and truck carrier (PCTC) vessel powered by liquified natural gas (LNG) and battery power. LNG burns more cleanly than traditional heavy fuels, and the battery component drives auxiliary equipment and reduces emissions in port.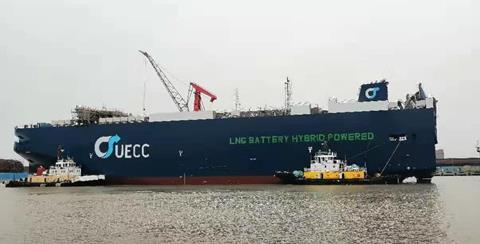 The vessel was launched at the Jiangnan Shipyard in Shanghai last week and UECC is expecting two further similar vessels to be delivered in 2022.
The vessels have a length of 169m, a width of 28m and capacity for 3,600 cars spread across 10 cargo decks. They can also accommodate a wide range of other high and heavy cargo, and breakbulk in addition to cars and trucks.
"The introduction of batteries is an excellent demonstration of our deepening commitment to next-generation sustainability," said Glenn Edvardsen, CEO of UECC. "Battery power on the new vessels will improve operational efficiency and further reduce emissions through peak shaving, in addition to handling partial accommodation load and driving auxiliary equipment. Battery power also provides an option for reducing emissions while in port, a feature that more and more cities are demanding."
The ships' engines are dual fuel, meaning that they can run on either LNG and traditional marine fuels. As more biofuels are set to become commercially available in the future, UECC plans to increase the proportion of carbon neutral and synthetic fuels in their future fuel mix. Edvardsen added: "We aim to be in front of the move to sustainability in shipping. This is the motivation behind our decision to invest in dual-fuel solutions for these new buildings."
Hybrid and dual-fuel LNG vessels are increasingly popular options for shipping lines to reduce their emissions. Grimaldi recently took delivery of the first of 12 hybrid ro-ro vessels, while Siem has started using LNG vessels for VW. UECC has also switched one of its older vessels, the Autosky, to biofuels as part of a trial. Höegh Autoliners is doing something similar with the Höegh Trigger. While they are all steps in the right direction, our recent in-depth feature showed that solving the emissions problem in shipping remains a complex issue.