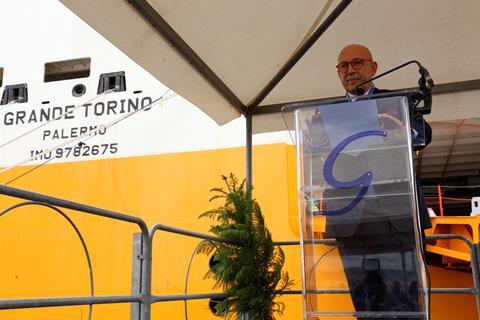 Italian shipping group Grimaldi has christened its pure car and truck carrier (PCTC) Grande Torino, the first of seven vessels ordered from Yangfan shipyard in Zhoushan, eastern China.
The ship entered service last December and since then the company has taken delivery of sister PCTC Grande Mirafiori, named after a Fiat car plant.
Grande Torino is 199.90 metres long, has a beam of 36.45 metres, gross weight of 65,255 tonnes and a service speed of 19 knots.
Grimaldi describes the vessel as being one of the largest car carriers on the market, capable of transporting around 7,700 car equivalent units (CEU) or, alternatively, 5,400 linear metres of rolling units and 2,737 CEU. It has four hoistable decks and can take any type of rolling freight up to 5.3 metres high.
The vessel was christened in the port of Civitavecchia, on the west coast of central Italy. Representatives of companies in the supply chain serving Fiat Chrysler Automobiles (FCA), as well as officials from Civitavecchia port, local authorities and the Grimaldi Group attended the event.
The event took place on the 50th anniversary of the start of commercial relations between the Neapolitan company and FCA, when the first car carrier with the Grimaldi Lines livery was named Warrington as a tribute to Fiat UK, whose headquarters were in the city at the time.
As the new flagship for Grimaldi's car transporters, Grande Torino represents a "further and significant" step forward towards an increasingly ecofriendly fleet as it is fitted with an electronically controlled main engine and hybrid exhaust gas-cleaning system, said the group's managing director Emanuele Grimaldi.
The Grande Torino will be employed on the group's weekly ro-ro service between the Mediterranean and North America, serving Gioia Tauro, Civitavecchia, Livorno, Savona, Valencia, Antwerp, Halifax, Davisville, New York, Baltimore, Jacksonville, Houston, Tuxpan and Veracruz.