Hellmann Worldwide Logistics is managing a newly built parts centre in Oelde, Germany for the inbound supply of parts to the Claas assembly plant in Harsewinkel.
Claas makes agricultural machinery for the global market. It commissioned the site in Oelde back in 2018.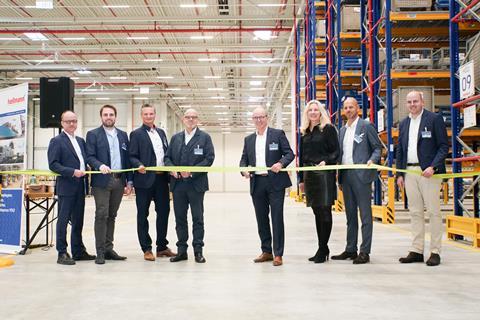 Hellmann is beginning operations across a 9,000 sq.m footprint but full operations across twice that space are due to be complete by the end of the year when a second phase of construction is completed.
Hellmann is receiving a wide range of parts from suppliers in China, India and Turkey, where they are stored, packed and picked before being shuttled to the production plant, which is about 18km away, several times a day.
"For years, Hellmann has been an important and strategic partner in the context of our European land transports and our global air and sea freight," said Bastian Linnenbrink, head of supply chain management for Claas Self-Propelled Harvesters. He explained that the new activity at Oelde expanded the warehousing services Hellmann was providing for Claas to include picking and sequencing. Hellmann has been providing logistics services for Claas for ten years.
"Hellmann thus forms an important part of our supply chain and our immediate production supply. We are pleased to shape growth together at the new location in Oelde accompanied by significant process improvements," said Linnenbrink.
The new facility in Oelde also features the latest warehouse technology and has been built to be sustainable, including a 9,000 sq.m photovoltaic system on the hall roof to cover part of the facility's energy needs.
"With the new warehouse, we will be able to sustainably… continue growing together with Claas and… create and secure jobs in the region," said Volker Sauerborn, Hellmann's chief operating officer of contract logistics.
Read more about the smart tools Hellmann Worldwide Logistics is using to make its logistics services more efficient, resilient and sustainable in our interview with Monika Thielemann-Hald, global head of automotive logistics