The latest car registration figures from the Society of Motor Manufacturers and Traders (SMMT) show a third month of recovery, driven by large fleet registrations. However, supply chain shortages, surging inflation and the cost-of-living crisis have resulted in a downward revision on the market outlook for the year of 2.2%. The SMMT now expects 1.56m registrations for 2022.
"A strong October is hugely welcome, albeit in comparison with a weak 2021, but it is still not enough to offset the damage done by the pandemic and subsequent supply shortages," said Mike Hawes, chief executive of the SMMT.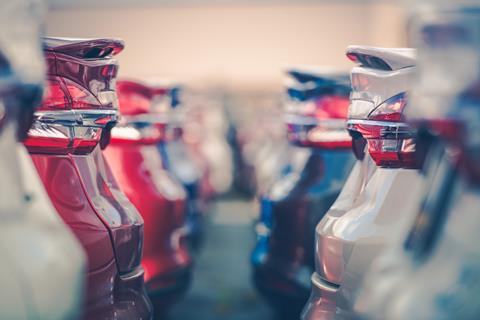 Figures for October show a +26.4% increase in registrations to 134,344, with a 47.4% increase in fleet registrations to more than 67,900 vehicles. Private sales were up 7.4% to more than 58,400.
Responding to the figures, Karen Johnson, head of retail and wholesale at Barclays Corporate Banking said: "Last month's registration figures are better than expected amidst the current economic churn, as the fulfilment of previous order books and continued demand for new vehicles boosted car dealers in October. Although UK production figures have fallen in recent months, consumers are clearly lapping up what is available."
However, year-to-date deliveries show a market down -5.6% on the same period last year and a third below pre-Covid, putting the UK on course for its toughest year since 1982, according to the SMMT.
Richard Peberdy, UK head of automotive, at professional services firm KPMG, said: "UK automotive manufacturing remains in a perilous state, with businesses worrying about high and sustained inflation in energy, material and logistics costs. All this from a baseline of throttled supply chains in key components, and of course the costs and disruption of the Covid years."
More positively, however, overall market recovery is expected to continue through 2023, with an outlook of 1.8m.
EV confidence
Electric vehicle (EV) registrations are going to be part of that recovery, given the strong figures for October. Battery electric vehicle (BEV) registrations increased by 23.4% to more than 19,900 and plug-in hybrids (Phevs) by 6.2% to 8,900. However, the SMMT recorded that BEV uptake grew by less than the overall market for the first time since the pandemic and market share fell in October because of supply chain shortages of critical parts.
"Next year's outlook shows recovery is possible and EV growth looks set to continue but, to achieve our shared net-zero goals, that growth must accelerate and consumers given every reason to invest," said Hawes.
That in turn relies on enough economic stability to convince buyers they can invest in a more expensive EV and the confidence that an adequate charging infrastructure is in place to overcome the 'charge anxiety' concerning them.
The SMMT warned that stretched infrastructure and the cost-of-living crisis had the potential to undermine future uptake. It was up to the UK government's Autumn Statement, set for 17 November, to stimulate demand and deliver both economic growth and sustainable progress.