French carmaker Groupe PSA and Chinese partner Dongfeng Motor are reported to be making cuts at their Dongfeng Peugeot Citroen Automobiles (DPCA) joint venture that include halving the workforce, closing a plant and selling another.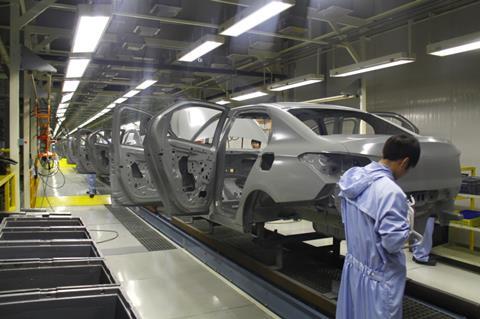 The cutbacks are intended to curb mounting losses as once-booming demand in the world's largest car market slows down.
News agency Reuters reported that restructuring plans had been agreed by PSA's CEO Carlos Tavares and Dongfeng's chairman Zhu Yanfeng.
According to Reuters, DPCA will close its original assembly plant, Wuhan 1, and redevelop the site in a commercial partnership with the local government. The factory's tooling and production will be transferred to Wuhan 3.
The payroll will fall from 8,000 to 5,500 by the end of this year and to 4,000 within another three years as DPCA sells off its idling Wuhan 2 factory. The document noted ongoing discussions with potential buyers, Reuters reported.
Underperforming vehicles will be dropped as the Peugeot and Citroën line ups are streamlined around more profitable models.
The news agency reported PSA had written off €400m ($448m) from its DPCA stake, which is now valued at €500m. Sales last year were 251,700 vehicles, a far cry from a peak of 731,000 in 2014.
The trend is continuing, with the group reporting sales in China and southeast Asia down 60.6% year-on-year to 64,169 units in the first half. PSA claimed a 0.5% market share in China, versus a year-ago 1.1%. The company is predicting China's automotive market will contract by 7% this year.
DPCA's sales revenue fell 60% to €921m in the first six months of the year, with an operating loss of €129m, and depreciation and impairment totalling €197m contributing to a loss of €325m. PSA's share of that loss was €163m.
To counter the financial bleeding, PSA said in its H1 financial report: "The group is working on action plans with its partners to tackle current issues and lower the breakeven point of the JVs."
It is progressing with plans to launch electric models this year.
PSA's other JV in China is with Changan, known as Changan PSA Automobile (Capsa) and based in Shenzhen, south China.
When questioned by analysts about the Chinese operations following release of the H1 figures, Tavares said PSA would "accelerate variable cost reduction, reduce fixed cost" and boost pricing. "Our partner is in the same mindset," he said of Dongfeng. "They also want to accelerate."