Daimler India Commercial Vehicles (DICV) has exported its 25,000th truck from the Oragadam plant near Chennai. The milestone truck, a Fuso FJ, was exported to Saudi Arabia, one of 50 countries to which the division now exports commercial vehicles, across Africa, Latin America, the Middle East, and Asia.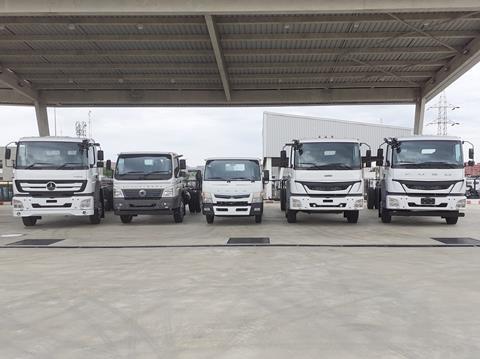 "Saudi Arabia is an important growing market for DICV," said a spokesperson for the company. Along with the FUSO FJ 18-ton truck DICV is also exporting the following models to the country: Fuso FI 12-ton, Fuso FA 9-ton, and Fuso FJ 25-ton.
NYK Line is transporting the vehicles between India and Saudia Arabia for DICV.
Last year DICV exported more than 7,000 trucks, an 8% increase on the 6,550 it exported in 2017. The Daimler subsidiary began exporting trucks in 2013 and two years ago reached the 10,000 export milestone.
Domestic sales also fared well last year. DICV sold more than 22,500 trucks on the Indian market, up 35% on the previous year and led by strong sales from the BharatBenz line up. Overall more than 90,000 BharatBenz trucks have been sold by DICV since 2012.
The Oragadam plant is the only Daimler location worldwide that makes engines, transmissions, trucks and buses for four brands – BharatBenz, Fuso, Mercedes-Benz and Freightliner. Last year the plant made around 100,000 vehicles.
In June this year DICV expanded domestic aftermarket services for the BharatBenz division with the set up of its first parts distribution and service centre in Coimbature, in the southern state of Tamil Nadu. The facility has been set up with Prabal Trucking and was part of BharatBenz's network expansion in the country.